Police link football fan Isaac Juma's death to family land dispute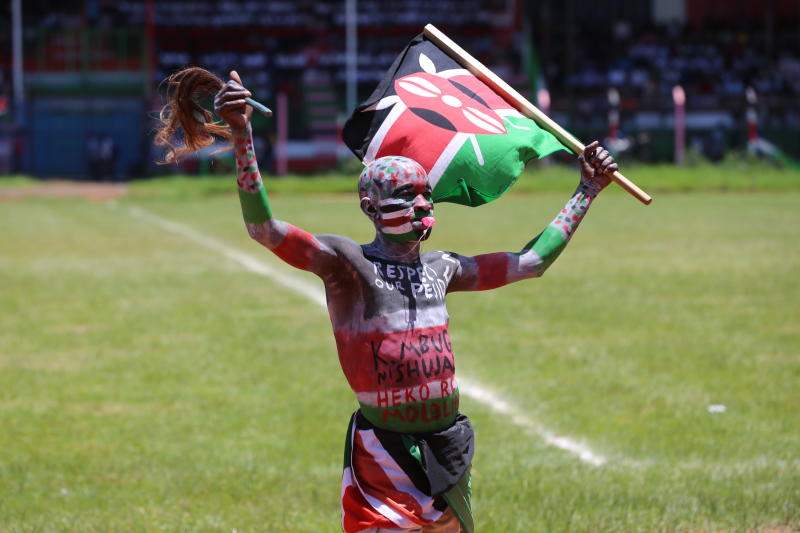 Police in Mumias have launched investigations into the murder of popular football fan Isaac Juma.
Mumias West Police Commander Stephen Muoni told The Standard that Juma, 58, was hacked to death with a machete by two assailants at his home in Mumias West, Kakamega County on Wednesday night.
"Juma, his brother and son heard a commotion outside and went to find out what was happening, only to be attacked," said Muoni.
According to the officer, the incident happened at around midnight.
"Juma was accosted by the two but his brother and son escaped and raised the alarm. We visited the scene but I was not aware it was the popular Harambee Stars and AFC Leopards fan, I thought it was a different Juma until later," he said.
Juma had succumbed to his injuries by the time the police and villagers arrived at the scene to help him.
"A villager called the police moments after the incident and when we rushed there, we found Juma lying in a pool of blood with deep cuts to the head," said Muoni.
The police officer said they were investigating claims that Juma was killed over a land dispute. His body was taken to Butere Funeral Home.
During his lifetime, Juma cut the image of an ardent football fan and endeared himself to Kenyans through his exceptional antics while cheering Harambee Stars and AFC Leopards during matches.
The energetic football enthusiast would often be seen dancing throughout football matches. He would paint his body from head to toe with colours of the national flag, carry the flag and a small pot.
The football fan, who hails from Ebuyenjere village, was just two years when he lost his father.
According to villagers, Juma developed an interest in football at a tender age and would always listen to commentaries on the radio at a nearby market.
In an exclusive interview in April 2021, Juma hinted that his life was in danger due to a land dispute.
He claimed that some of his relatives had on many occasions attempted to grab his two-acre ancestral land.
Juma claimed to have received numerous death threats and at one point it was believed that his enemies were peddling rumours that he was dead so that they could sell the land.
He confided then that his five cows were stolen when he returned from cheering Harambee Stars in Egypt after the 2019 Afcon. Related story on page 50.