Swimming: Over 200 swimmers qualify for Nairobi Level 1, 2 Championships at Kiambu Invitational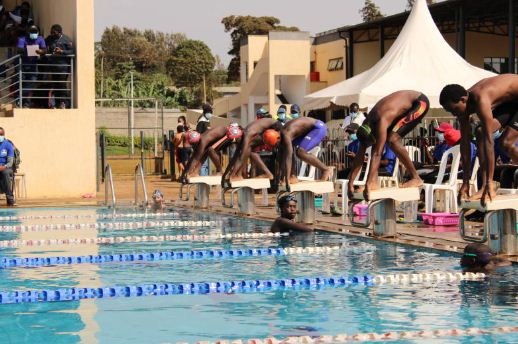 Over 200 swimmers qualified for the forthcoming Nairobi Level 1 and 2 championships at the two-day Kiambu Invitational Swimming Championships held at Regis School in Nairobi over the weekend.
Among the swimmers who performed well in the Kenya Swimming Federation recognised event is Alma Ngaruiya of Crawford International School who clocked 1:45.55 to win the Girls U9 100m Individual Medley (IM).
Don Gatheca of Moi Educational Centre won the boys category in 1:46.48.
Amani Gikunda of Poseidon Swimming Club was the only swimmer who earned a qualification in the Girls U11 200m IM.
Gikunda clocked 3:24.60 to beat the other eight contestants.
Shad Frants,15, of Poseidon Swimming Club was contented with his overall performance in the boys U15 200m IM,50m breast-stroke, 100m freestyle, and 50m and 100m butterfly contests.
"It's nice to be back in the pool, it's been long since I competed.
"My target is to improve on my personal best," said Frantz.
Bianca Kinyanjui,14, of Crawford International School said the competition was important to her because it was the first gala of the year after post Covid-19 pandemic.
"We look forward to get back to the sport. My aim is to qualify for continental events that are lined up this year," said Kinyanjui.
KSF Kiambu Branch Secretary General, Malik Mwabondo was happy with the turnout stating 520 athletes took part in the championships.
"We didn't have spectators because of the tough Covid-19 protocols put in place by the Sports Ministry and the Ministry of Health," said Mwabondo who also doubles as the branch Technical Committee Chairman.
"Our aim as a branch is to get back the swimmers to training.
"We want to qualify as many as possible for the international events that are already in the pipeline," said Mwabondo.
Some of the upcoming contests include the National Long Course at Kasarani Acquatics in December, Nairobi Level 2 in October and the Nairobi Level 3 in November.
"The Nairobi events will grant swimmers the opportunity to qualify for the prestigious Cana Zone 3 Championships to be held in Kampala, Uganda in November," said Mwabondo.
The KSF Kiambu Branch has planned for a Sprints and Relay Championships at Wood Creek School in November and a Long Course Championships at Jomo Kenyatta University of Agriculture and Technology in December.
Girls 12-13 100m backstroke results
1.Jade Onderi (Poseidon) 1:23.50
2.Aishwarya Ramanan (Braeburn) 1:31.19
3.Lara Bailey (Braeburn) 1:31.37.
4.Amana Kingatua (Savvy) 1:33.06
5.Tshomela Muriuki (Brookhouse) 1:33.44
6.Anika Bebbington (Braeburn) 1:35.87
7.Gahai Chedeye (Regis)1:36.10