Africa's top shooter Ian Van der Bank pulls out of IDPA event in Kiambu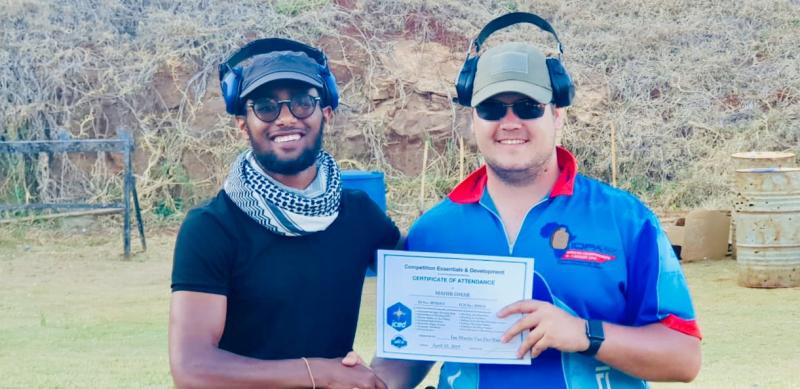 Seven-gun Master Ian Van der Bank, the top ranked shooter in Africa, has pulled out of the 2021 International Defensive Pistol Association (IDPA) Championships that begins proper tomorrow at the National Gun Owners Association (NGAO) shooting range in Kirigiti, Kiambu County.
The South African, who is considered the father of shooting in Kenya having trained over 100 shooters in April 2019, pulled out of the competition on medical grounds.
"He had to go through a deep surgery that immobilises him," said Sammy Onyango, who is the Championship's Match Director.
Bank, who was seeking to compete against some of his students, joined the list of high-profile shooters who have pulled out of the championship for various reasons.
"Some of them (internationals) would not appear due to medical reasons or other personal commitments," added Onyango.
The organisers have put up stringent health measures that must be met by every eligible participant before one is registered to take part in the elite championship.
"I have already received a few apologies. Covid-19 has been the worst disaster that has hit us. Ian is a prominent shooter and we had hoped to compete against him because he is our teacher, but unfortunately, he not be able to make it to the competition," said Onyango.
Also out of the championship is Shawn Rose, another seven Masters and Swiss Andreas Pfenninger.
"We are asking other internationals who are coming in to understand that they must submit their Covid-19 test certificates. They must prove they were immunised because we are not here to just promote the sport but to also ensure that our people are safe. So the ones who have failed to do that, haven't been able to fly in," added Onyango.
Pfenninger will be in charge of the Swiss International, which will be held on September 12.
Local shooters have, however, taken advantage of the challenges of foreign players to enroll in droves, for this event, which is taking place outside of South Africa for the first time.
Meanwhile, IDPA Africa's regional President Vivian Whatley has appointed Master Ashu Sennik to be the International Point of Contact (IPOC), should he (Whatley) fail to travel to Kenya in time for the competition.
"Whatley has sent in his apologies. He said he was not feeling well but we are still expecting him. He has appointed Sennik who is going to be his representative only for this championship," said Onyango.
The main competition will take place tomorrow and Sunday.
Nakuru Queens duo joins Tigers FC
Arusha Tigers have raided Kenya Women's Premier League side Nakuru Queens' camp and signed two key players for their 2021/2022 Tanzanian Premier Leagu