Can we limit number of fans in stadiums?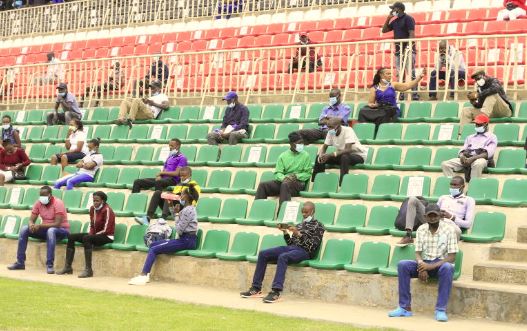 That the Covid-19 pandemic has robbed sports fans of joyous moments is not in doubt.
Used to cheering on their favourite clubs and athletes, fans have been kept away from the stadiums for slightly over a year because of the coronavirus containment measures.
And now that the coronavirus is steadily moving into the third wave, there is more sad news for sports lovers.
In March 2020, the Ministry of Sports called for cessation of sports competitions and in September 2020, released guidelines for resumption of sporting events in the country.
On Friday, President Uhuru Kenyatta outlawed political rallies and public gatherings.
This comes against full blown sporting action going on in most parts of the country, with majority of contact and non-contact sports activities taking place – begging the question: do Kenyan fans really observe the Covid-19 protocols?
And with the harsh reality gathering momentum, it's still unclear whether we should have a small number of fans in the stadium.
Take a quick survey and help us improve our website
Take a survey
JB Priestley in his novel The Good Companions, described football fans as "… all brothers together for an hour and a half, for not only had you escaped from the clanking machinery of this lesser life, from work, wages, rent, dole, sick pay, insurance-cards, nagging wives, ailing children, bad bosses, idle workmen, but you escaped with most of your mates and neighbours, with half the town, and there you were, cheering together, thumping one another on the shoulders, swapping judgments like lords of the earth, having pushed your way through a turnstile into another and altogether more splendid kind of life…."
Different countries have handled fans differently.
By and large, others argue that the ideal measure is to bar fans from the stadia completely until the Covid-19 pandemic is eliminated.
On Monday, a senior World Health Organisation official said: "It is 'premature' and 'unrealistic' to think the pandemic would be wiped out by the end of the year.
But that should not make Kenya compare herself with Europe's economic tigers that are more populated and find it difficult to contain the spread of the virus.
In Hungary, Australia, Austria, and other European countries considered small, fans have been let back into stadiums, albeit under regulations.
It almost looks obvious that the best option at the moment is to keep fans away from the stadiums until Covid-19 is dealt with.
That aside, political rallies have been going on.
It now remains to be seen if we will heed President Uhuru's directives as we think of ways of having a small number of fans in the stadium.
Will things be different this time around?
Wakhisi is a sports reporter and anchor at Standard Group PLC