Old boys of Kakamega High school seek to nature talent and support learners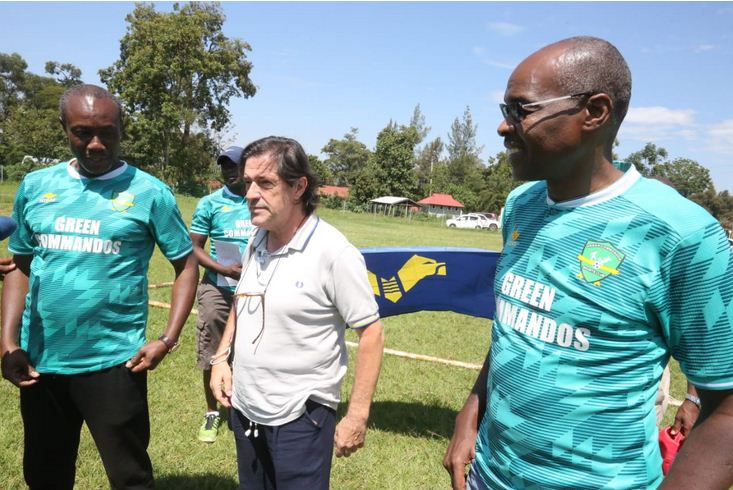 The old boys of Kakamega High have embarked on an ambitious project to nature talents and support bright but needy learners at the school.
Under the Green Commandos Sports Club (GCSC) banner, the former students, comprising former school players and fans target to pay school fees for all needy learners including talented boys from humble backgrounds.
So far, GCSC has entered a partnership with foreign universities in the United States of America and Italy that will see talented learners land study opportunities abroad.
GCSC Treasurer, William Ojonyo disclosed that they are partnering with FirstPoint USA, a leading student placement entity that delivers exciting academic and sporting opportunities to international students on behalf of over 2,500 universities across the USA and Canada.
"GCSC has also partnered with the Iowa Wesleyan University of USA on a cultural support programme," said Ojonyo during an interview at Kakamega High school grounds yesterday.
They have also partnered with Hellas Verona FC, an Italian club playing in Italian Serie A top tier league.
"Our focus is on developing talent without compromising the academic potential in the learners," said Ojonyo.
According to the official, the project targets beneficiaries between the age of 8 and 19.
"We have negotiated an exchange programme with Hellas Verona FC who have released one of their tacticians to Green Commandos Sports Club to develop and identify talent for Italy market."
Stefano Cortesi Commandante, the Italian tactician said he was impressed with the project.
"I was impressed when GCSC chairman, Isaac Kwoba proposed this project to me and by mutual agreement we decided to look for an important company to make a partnership with," said Mr Commandante.
He added: "We found the important company in Hellas Verona that has given us maximum availability of collaboration and has stood with us in implementation of our project."
According to Ojonyo, the idea behind the project is to debunk the myth that talent and academics do not go hand in hand.
"There has been a belief that a talented athlete can do without education, some footballers natured in this school have lost it in their past as a result of similar perception, this is what we would like to change by investing in both sport and education of our learners," said Ojonyo.
He said Kakamega High was on the right trajectory of reclaiming its past glory as both an academic and sports powerhouse.
"Recently, we saw at least four of Kakamega High players named in Harambee Stars lineup in the match they lost against Mali, we encouraged them to carry on with the talent preparation for the abroad market," said Ojonyo.
GCSC has also embarked on the transformation of one of the school's three pitches into a modern stadium.
"As old boys, we have undertaken to develop the upper field of the school into a sports ground with a good playing ground and running turf, so far Sh2.5 million has been pumped into this project with the first phase of it at an advanced stage."
GCSC in conjunction with School Fees for the Needy Students (SFNS) have further undertaken to ensure needy students are paid for school fees for equal opportunities.
"To this end, we have wired to the school account over Ksh1,000,000 since the inception of the initiative geared towards giving back to the school and the community," revealed Ojonyo.
The programme has also seen at least four students join university. "We have two of them at Masinde Muliro University, one at Eldoret University and another at Kenyatta university."
Mr Kwoba said they were determined to protect and promote the school's rich culture through promoting sports and academic work.