International shooters hail Kenyans' performance in IDPA Africa Championships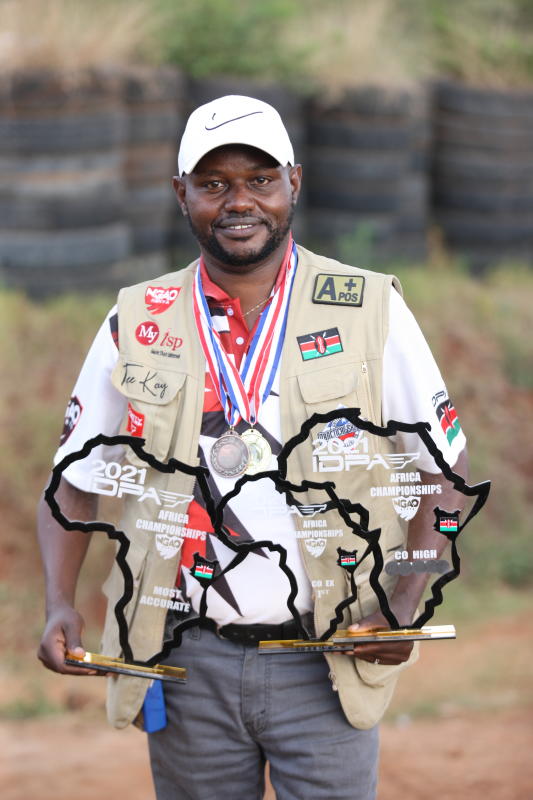 The inaugural International Defensive Pistol Association (IDPA) Africa championships 2021, at the Kirigiti shooting range over the weekend, was a success.
Granted, shooters were dealing with firearms but when it came to the safety measures, there was no room for error.
According to NGAO-Kenya chairman Martin Chengo, the bays were up to international standards and the safety officers did a splendid job.
There were, however, some talking points from the event.
Courses of fire (COFS)
There were 14 Courses of Fire which is the standard requirement by IDPA. According to top sharpshooter and Safety Officer Belinda Akoth, a good number of shooters underestimated the COFS. At glance, they looked quite simple, but once the buzzer was sounded, their technicality was quite apparent. A participant needed good mental strength to tackle such stages. If one's mental strength broke down, it was a done deal.
Top ladies performance
It was a maiden win at the African championships for sharpshooter Elizabeth Cherono Onyango -Pistol Caliber Carbine (PCC), who earned herself the Lady High trophy in competition. Irene Ndunda and Irene Wanjiku also proved to be forces to reckon with in the sport earning second and third slots respectively. "I am so happy. I did not expect to win because the COFS were very challenging. Going forward, I will be training to become the first Lady Master in Kenya," said Cherono. For top Marksman Irene Ndunda, the only challenge she experienced were rounds of malfunctions in two COFS, which affected her scores. "You must deal with a malfunction, clear in one COF before you can move to the next. "Otherwise, shoot went on just well. It's been smooth since it started. I wore two hats in this championship. As a safety officer and as a participant," said Ndunda.
Disqualifications (DQS)
Disqualifications can be on a finger call, two finger call or if a shooter passes the 180 rule. The going got tough for a few participants though as seven DQs were issued. The affected included three sharpshooters, two marksmen and two novices. Disqualification means the shooter can't continue in any part of the IDPA match, re-enter in another division or shoot any side matches. The shooter's score will be reported as a DQ in the final tally.
Scoring and stats
Head of stats Master Mahir Omar was a happy man. Mahir, who was assisted by Sufyan Jeizan, said the planning and execution was very good. His job included making sure the results keyed in by Safety Officers were correct. His team posted the results on time on Practiscore. They received three disputes in the results but they were resolved.
Internationals performances
Ukraine's Boris Zelinsky ESP sharpshooter, who was second in his division, was delighted with the championships, although he had a challenge with the type of pistol he used for the completion. "They gave me a CZ T10C to use. It is different from what I am used to. That kind of affected my performance. Everything has been spot-on with safety. Covid-19 protocols were observed. I am very impressed. There are a lot of high level shooters in Kenya," said Zelinsky.