Cyclists riding for peace in a journey that started in Dar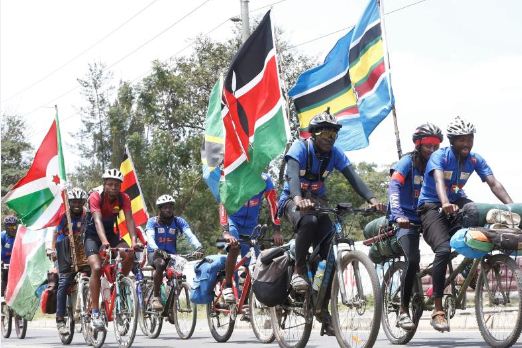 It started off 24 days ago at Ramada Hotel Mbezi Beach in Dar es Salam, Tanzania, with cyclists aiming to cover 6,000 kilometres across five East African countries in 55 days.
A team of 26 cyclists under the Great African Cycling Safari has been cruising East Africa since August 1.
The cyclists fly flags of the six East African countries; Kenya, Tanzania, Uganda, Rwanda, Burundi and South Sudan in a 6,000km cycling contest, the longest bicycle riding tour in the world according to enthusiasts.
In their stopovers in major towns, the cycling team has been planting trees and preaching peace in the cycling tour themed Experience Africa, Integrate Humanity.
By yesterday, the cycling safari team had made 18 cumulative stopovers in Tanzania, Kenya and Uganda.
They are cycling to promote peace, unity and development in East Africa.