Faith Kipyegon: The ever-smiling Kenyan golden girl returns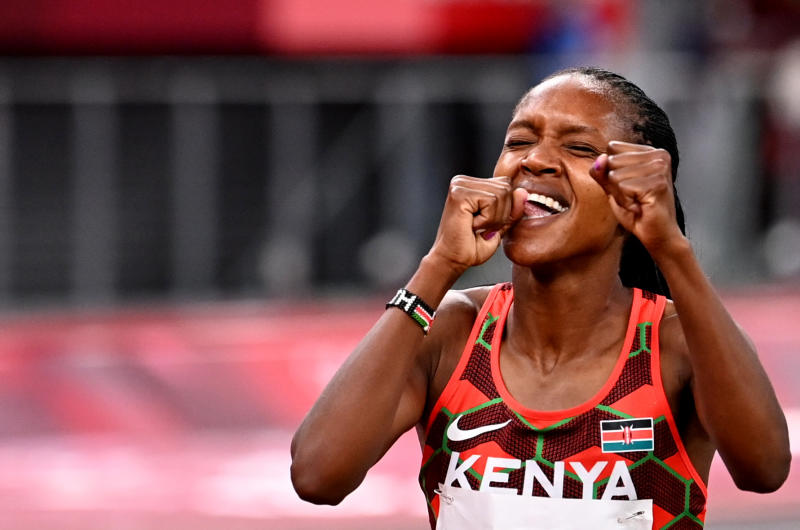 Last Friday, Faith Kipyegon she made another long stride to the annals of history by becoming the first woman to win back-to-back Olympic gold medals in 1500m since Russian Tatyana Kazankina in 1976 and 1980.
Faith Kipyegon stamped her authority, successfully defending her gold medal in the women's 1500m at the Tokyo Olympics with an Olympic record time of 3:53.11.
In Kenya, she is the ever smiling, golden girl who has not disappointed since 2011 when she was a junior.
In 2011 she ran the World Cross Country Championships barefoot in Punta Umbria, raising eyebrows as she shot to fame.
At the Tokyo Olympics, her gold medal came at a time when Kenya; a powerhouse in athletics, was praying for a gold medal – and Kipyegon, who was born in Kuresoi 27 years ago, did not disappoint. The country had only secured two gold medals then and time was running out.
She had represented the country at the London Olympics of 2012, but was eliminated in the heats in her debut before bouncing back with impressive performance in Rio 2016.
Kipyegon's profile in the sport rose quickly, chalking up victories at both the world youth and world junior 1500m in back-to-back seasons. Her fast time to win the world junior title in Barcelona was almost a decade ago (2011 and 2012).
And yesterday she arrived in Eldoret-where she lives with her young family-to a warm reception.
A photo of Kipyegon carrying her three year-old daughter Alyn Chepkor made rounds in sections of social media.
"I dedicate the gold medal to my daughter. This is very special because winning as a mum really means a lot to me. This medal belongs to Alyn. She was watching back at home and I know she is really excited and very happy," Kipyegon told reporters after winning the Tokyo race.
"I liked London and enjoyed it a lot. It also was unique from other races because I was graduating from junior to senior. It was my first big race competing with seniors," said in an interview in 2017.
It was in cross country that Kipyegon made her first steps internationally by finishing fourth in the junior race at the 2010 World Cross Country Championships before winning the title in 2011 and 2013.
Kipyegon would have started as the favourite for the senior title in 2015 if injury didn't intervene but the 23-year-old could have another tilt at that title in Kampala, Uganda, in March.
While growing up, Kipyegon was inspired by Olympic champion Vivian Cheruiyot because their early athletics careers followed similar trajectories, with almost impressive performances at junior level.