Freestyle Football: World champion Garnier oversees national trials as Kenya picks two for Spain World Cup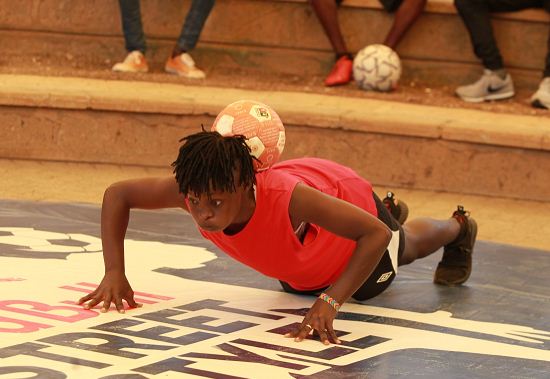 Edward 'Gatuso' Murimi and Rael Kamanda successfully defended their Red Bull Freestyle Football national titles in Nairobi on Saturday evening.
Their victories at the national trials conducted by World champion Sean Garnier edged them closer to the World Championships slated for Valencia, Spain on November 20, 2021.
Fast-paced Murimi edged his mentor Martin Kibera 24.5-20 in hotly contested men's finals that left the capacity crowd at the Nairobi National Museum thrilled.
Kamanda too staged an electrifying performance in the girl's finals where she thrashed Linda Seda 21-13 to retain her diadem.
The intervals of the thrilling competition were iced with high paced music and break-dancing.
"Kamanda connected well with the crowd, this sport is about a conversation with the audience, you must keep them engaged," said Garnier.
Ahead of the contest, Kamanda says she trained six hours a day under her coach and former Harambee Starlets captain Terry Ouko, to gain fitness.
"Freestyle is an individual sport, it's upon you to work hard and put your house in order," says Kamanda.
The 23-year-old Makolanders FC midfielder plans to watch lots of videos on freestyle football on YouTube to prepare her for the World Championship journey.
Apart from featuring for the FKF Women's Premier League side Makolanders, the Zetech University student also turns up for the national side Harambee Starlets.
Murimi, 29, said he owes his victory to Kibera who introduced him to street football as a kid.
"I have so far travelled to Brazil, Germany, Austria, Czech Republic and South Africa because of Kibera, I'm forever grateful," he said.
The former Nanyuki United FC midfielder plans to improve on his lower and sittings ahead of Spain he missed last year due to the global covid pandemic.
"Currently, I'm happy with my speedwork, translation and uppers. They are good," says Murimi.
Garnier says the players were assessed on ball control, difficulty, execution, all-around, originality and integration in their bid to score points.
He is happy with the growth of freestyle football in Kenya which he said is on the rise.
He is hopeful that the discipline will one day be included in the Olympics Games.
"The Red Bull Street Style World Champion, launched in 2008, aims to find the best overall freestyle football players in the globe.
"The sport is growing rapidly and most of the current players have time to build up," says Garnier.