Tributes pour in as sports fraternity condoles with Amina following husband's death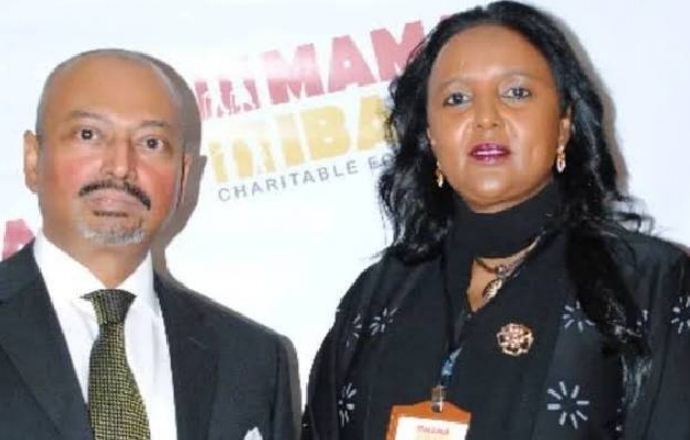 Kenyan sporting fraternity has come forward to pay tribute and mourn the death of Khalid Hossain Ahmed, the husband of Sports Cabinet Secretary Amina Mohamed.
According to family, Khalid died on Thursday morning, July 29, at a Nairobi hospital after a short illness.
The father of two led a private life throughout his marriage to Amina, who is a public figure.
Reacting to the sad news, President Uhuru Kenyatta sent a condolence message to CS Amina and her family.
In his message, the President Kenyatta described Khalid as a gentleman and a strong family pillar.
"I have received the disheartening news of the passing away of Mr Khalid Ahmed with great sadness. Mr Ahmed was a great person, a gentleman and a strong pillar of his family.
"My deepest condolences to my colleague and friend Cabinet Secretary Amina, the children and the extended family as they come to terms with the sudden passing away of Mr. Ahmed," said Kenyatta.
The Head of State, who is in the United Kingdom on official tour, further eulogised Khalid as a gifted and successful businessman.
"It is very unfortunate that death has robbed our country of a gifted businessman whose contribution to the progress of our nation shall be dearly missed," he said.
Kenya women rugby sevens team players also expressed their compassion for grieving Sports Cabinet Secretary Amb. Amina Mohamed.
In a moving message to the CS, team captain Philadelphia Olando said their thoughts are with Amina and her family.
"She is our mother. We share in her grief. The news of passing on of her husband really hit us hard," Olando said after their 31-0 loss to Great Britain at the Tokyo Stadium on Friday.
"We hope to win our classification match for her. We miss her encouragement. She has been very supportive of the team," she said.
The Kenya Lionesses went on to beat Japan 21-17 in the 9-12th classification play off.
"Waziri has stood with us, always encouraging us to pick ourselves up in difficult times. Our rugby is on an upward trend thanks to her," Olando said.
On his part, former FKF president Sam Nyamweya said Mr. Ahmed was personally known to him as an astute businessman, a man of great virtues and whose integrity and honesty was above board and worth emulating.
"I wish to convey my sincere heartfelt condolences to the family of Cabinet Secretary for Sports, Culture and the Arts Hon. Ambassador Amina Mohammed following the passing on of her beloved husband Mr. Khalid Hossain Ahmed,"he said.
"He was a pillar of not just his family but the entire fraternity of friends, business partners and fellow citizens and he will be sorely missed by all those who had the opportunity to interact with.
"I pray for Allah's strength on the Waziri Amina, her children and the family and friends during this tough time. May the soul of our dear brother be received by the angels. Rest in eternal peace!"
NOC-K President, Paul Tergat also sent a message of condolences to the CS noting that the loss was such a huge blow to the super hardworking CS and her family,
He also said that he was lost for words to learn of the passing on of her husband.
He said the news filtering in from Nairobi concerning her bereavement was such a sad development, which left him and the Team Kenya contingent in Tokyo devastated.
Tergat expressed solidarity with the family from himself, Team Kenya, the Olympic Family and the entire sporting fraternity in the country.
He wished the Cabinet Secretary and her family the strength and fortitude to bear with the tragic loss, which came just a day after her return to Kenya from Tokyo for the Opening Ceremony of the postponed Tokyo 2020 Olympic Games.
Football Kenya Federation (FKF) president Nick Mwendwa also sent his condolences to the family.
"My sincere condolences go out to the family and friends of Sports Culture & Heritage CS, Ambassador Amina Mohamed following the passing on of her husband, Khalid Ahmed," he said.
"May his soul Rest in Peace, and may you find solace, dear CS, during these trying times."
Lady Justice Aluoch(EBS,CBS (Rtd) Judge, on behalf of Cricket-Kenya Normalization Committee also expressed shock and grief at the demise of Khalid.
" On behalf of Cricket-Kenya Normalization Committee, I write to express our deepest condolences for the untimely death of your dear husband Khalid," she said.
"Inna Lillahi Wa Inna Ilaihi Rajioon."
"From Allah we come and unto Him we return''
"( Surah Baqarah verse 156).
"We hope and pray that Khalid's soul rests in eternal peace, and also that God will give you and the children the strength to bear the loss and move on, Amen"
Ahmed's body will be at Masjid Nur in Nairobi's South C estate before being buried later today according to Islamic rites.
In March 2021, Amina lost her brother, Esmael Mohammed Jibril, a prominent city businessman, while undergoing treatment in India.