Young gun set for Africa shooting championship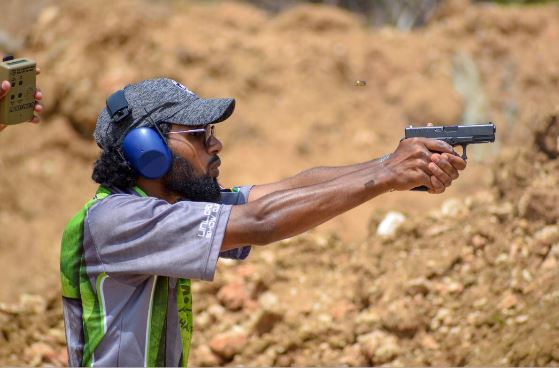 The International Defensive Pistol Association (IDPA)'s Africa Championships will for the first time be held outside the Republic of South Africa, National Gun Owners Association of Kenya (NGAO-K) chairman Martin Chengo says.
The competition, which will at the Kirigiti shooting range in Kiambu county, is targeting 200 local shooters, among them Kenya's youngest top shooter Mahir omar, 21, who got involved in shooting when he was only 15.
"My dad is my coach. Anytime he would participate in a competition, I would push him to let me go with him to the range. He was the one who guided me through the whole shooting process," he says.
Mahir and his father Master shooter Mohammed Omar could visit different ranges including Langata Sailing Club, Bamburi Rifle Club in Mombasa and NGAO-Kenya's Kirigiti shooting range.
"I took my first shot in 2014, I think in Ruiru. I can't remember very well as Kirigiti shooting range was still out of the picture at the time.
When I learnt about scoring in shooting competitions, I could help in patching the targets at the ranges," he says.
It's not until 2018 when Mahir's inaugural participation in a shooting competition took place at the Kirigiti shooting range.
"It was a normal club shoot consisting of about 30 shooters. I managed to beat about 3 or 4 shooters if I remember well."
Since then Mahir has grown in leaps and bounds to now become the youngest Safety Officer (SO) in the country.
"I believe I got the head of stats position because I'm more conversant with the new electronic way of scoring. My Job as a safety officer is mainly to ensure that a stage/competition is run safely.
I also handle stats and ensure that the match results are posted on time. This is a joint effort with the stats team.The exercise involves a lot of preparations.
In sharpening his skills in shooting, Mahir attended African champion Ian Van Der Bank's certified training courses in April 2019. This included beginners' class, intermediate and Advanced classes which he completed successfully and was awarded a certificate.
So far Mahir has participated in several contests which include the African championships in South Africa, sanctioned matches, battle of brands, Mashujaa shoot, and Chairman's cup among others.
"We're always hyped before a shoot. We make sure that we have everything set before leaving the house.
At the range we don't really mingle much, actually we shoot in different squads nowadays the only time we meet is maybe when we're moving to another stage and ask each other how we are faring then we discuss about the match after the shoot."
I remember I used to tease him that I'll beat him and we always used to laugh about it, funny thing is that I've started beating him now and I can't let him sleep I have to rub it in his face but of course he's always proud to see my achievements- He's my father after all." Says Mahir.
Although his 10 year old brother is really interested in the sport and always observes them doing dry fire at home and helps in patching when at the range; Mahir says his other family members are not so much into shooting sports.
Besides now being an SO, Mahir has been taking stats in shoots since 2017 to date. Currently he heads most competitions' stats in the country and will also be in charge of stats in the upcoming Africa Championships that will be held at Kirigiti.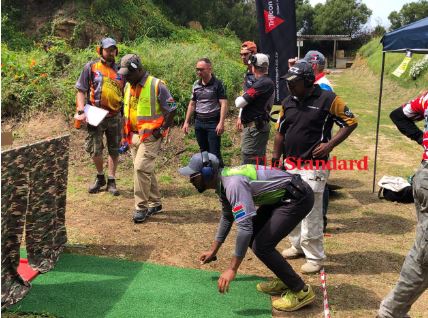 "My experience locally has been amazing. I can say I'm one of the privileged youths that is able to interact with age groups between 30-70. I'm really enjoying this and I'm learning a lot of things both in shooting and in life.
My experience in South Africa was astonishing. The views at their ranges are quite something. I was mesmerized to see how the shooters carry themselves; the level of discipline they have is out of this world."
But all I can say is that we are almost at those standards. Sports shooting in Kenya is growing at a very high pace."
Apart from shooting Mahir is an IT student and also works part time at his dad's workshop.
"I have some side hustles. Huku Kenya ni kutafuta hapa na pale we can't just sit and wait for magic. I think I'm business minded just like my dad," Mahir says.
According to Chengo, this is not the first time the Kenyan IDPA National team is participating in African Championships. Inaugural participation took place in 2016.
Top sharpshooters like Eng. Robert Nyamongo, Eng. Sammy Onyango, and Daniel Kyalo (disciplined forces) are all holders of gold medals and African titles in various disciplines.