Kenneth Karaya beat David Kinjah at Sokoke Forest Mountain Bike challenge title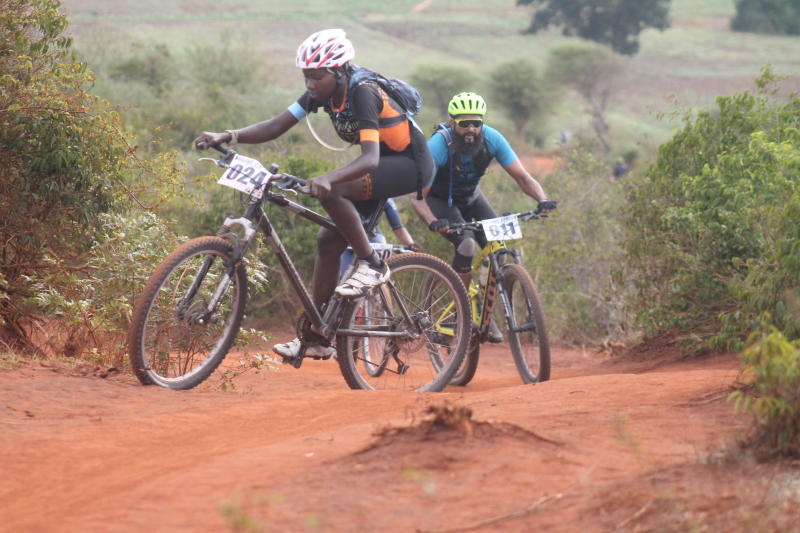 Veteran cyclist and coach David Kinjah lost the Sokoke Forest Mountain Bike challenge to his teammate Kenneth Karaya in an event held on Monday in Watamu, Kilifi County.
Karaya, 25, beat the experienced 49-year-old leading speed-cyclist in a race contested by 100 participants through the rough terrain of sand and hilly sections.
The victor clocked two hours and 33 minutes followed closely by 19-year-old Jordan Schleck who came second by two hours 33 minutes and 30 microseconds.
The challenge that ran from the entrance of Turtle Bay resort and snaked straight through the Arabuko Sokoke forest covering approximately 70Km attracted both local and foreign tourists.
Sokoke Forest Mountain Bike Challenge, which is the biggest cycling event in the coast, is held annually with the proceeds of the race going towards the conservation of the 400 square kilometres Arabuko Sokoke forest.
Karaya said his team of five cyclists from Safari Simba Cycling Trust from Kikuyu in Kiambu County performed well, scooping four of the top five positions.
"I first participated in 2019 and emerged number five, but today I made it. We had a good teamwork with my teammates and in the first 50Km I was leading the pack until Jordan caught up with me inside the forest," he said.
He added that the main challenge was the sand which slowed down the pace and that the weather also was too hot for them.
"I started competing at the age of 17 years and I have participated in many local races and others in Rwanda and Ethiopia," he said.
Jordan, a Ugandan by birth, and who is with the Safari Simba team said that at some point he had to literally carry his bike to beat the sandy sections.
"The challenge was the sand but it's a standard challenge and balancing the bike on the sand with the hot sun and so sometimes we got off of the bike to get out of the sand but we made it," he said.
Kinjah, who is a two-time champion of the race came a distant third and said that this year's race was a tough one since most of the route had loose sand.
He added that the terrain was rough and difficult, making some riders get lost along the way.
"The sand is very loose when it is hot and dry and you have to get off the bike and run with the bikes on our shoulder but it was good. My team made me happy," he said.
He added that successful participants will be helped to gain access to the national cycling competitions and even to the International level.