Shooting: Perfect aims do the trick for shooters Ndung'u and Njoroge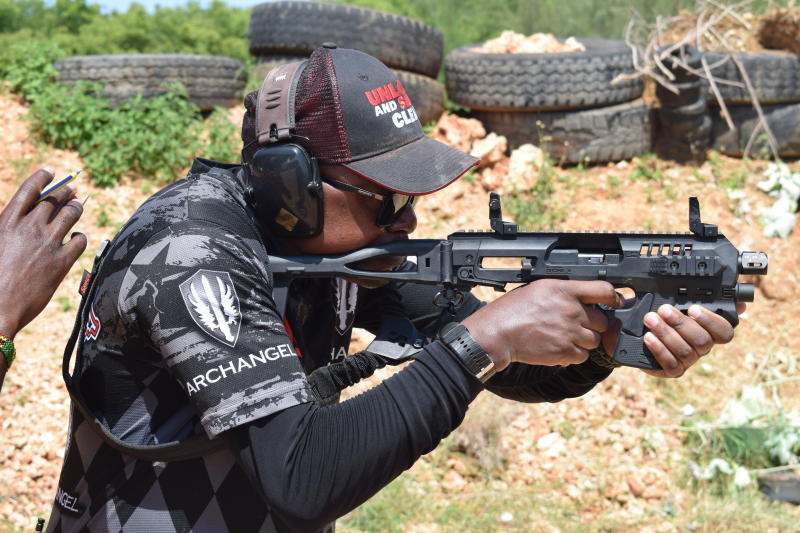 Master shooter Ibrahim Ndung'u of SEAgas Ltd emerged the overall winner of the inaugural United States Practical Shooting Association (USPSA) Steel Challenge competition.
Having shot in two disciplines, Ndung'u triumphed with a score of 66.39 in PCC and 79.97 points in Pistol 9mm.
For the first time, Team Coast of Mombasa played host to the event.
The challenge, which is a speed shooting competition, consists of standardised stages with steel targets coming in three sizes; small circular, large circular and square targets.
The event, which was the first to be held in the country, was sponsored by Pembe flour mills and hosted at the Bamburi Rifle Club.
A total of 47 shooters both from civilian and disciplined forces battled it out in seven stages of two strings each.
In Steel Challenge, competitors scored by the time it took them to complete each stage, while the match winner was determined using the lowest overall time.
Peter Njoroge of National Gun Owners Association of Kenya (NGAO-K) Nairobi, competed in three disciplines.
In the BUG category, he emerged tops, finished second in sharpshooter, before winding up third in Pistol Caliber Carbine (PCC).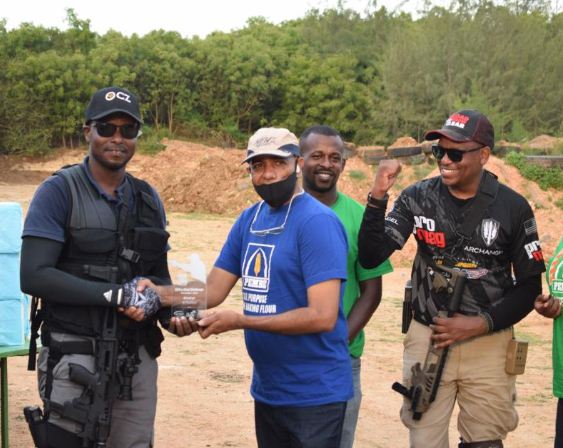 Team Coast captain and match director Abdulhakim Daud hailed the challenge, saying it was exciting, splendid, and one of a kind.
"This is the first time USPSA steel challenge was being held in Kenya. We are used to shooting in International Defensive Pistol Association (IDPA) and International Practical Shooting Confederation (IPSC) for many years, but now we are trying to introduce USPSA to the Kenyan sports shooters," said Hakim.
"Everyone seemed to be enjoying themselves. It was really a good outing." Team Coast is seeking to hold a sanctioned steel challenge match next year.
"This was a dry run and it turned out to be a success. We are lobbying to hold a steel sanctioned match in early 2021," said competitions captain Muzahim Taib. Besides the steel challenge, the contest also provided members of the disciplined forces, who comprised DCI, KDF, ATPU, and GK Prisons, a platform to compete on magazine relay. ATPU emerged winners.
Other sponsors who supported the event include SEAgas Ltd, Premier Hospital, Umoja Rubber Products, Mzuri Sweets Ltd, Lota Automobiles and Dhanjal Brothers Ltd.
RESULT
Master Category
Ibrahim Ndungu 79.97
Sharpshooter Category
1. Hakim Daud 121.17
2. Peter Njoroge 129.81
Marksman Category
1. Omar Moosa 137.52
2. Muzahim Taib 140.56
3. Ramadhan Mohamed 166.42
Novice Category
1. Moosa Khan 167.46
2. Samir Murravej 189.79
3. Jackson Kitheka 194.93
BUG Category
1. Peter Njoroge 153.64
2. Elias Kavwagi 157.03
PCC Category
1. Ibrahim Ndungu 66.34
2. Assam Ali 183.10
3. Peter Njoroge 183.40
Disciplined forces ladies
1. Brenda Ajiambo 213.32
2. Agatha Muchiri 256.39
3. Agnes Muchiri 257.21
Disciplined forces men
1. Mike Kiptanui 96.57
2. Peter Mwangi 128.42
3. Joel Lesikamoi 134.77
Senior Category
1. Ramadhan Mohamed 166.42
2. Nune Bonaya 355.97
3. Francis Kinyua 361.58
Team Shoot Challenge
1. ATPU
2. Prisons
3. KDF Ladies
4. DCI