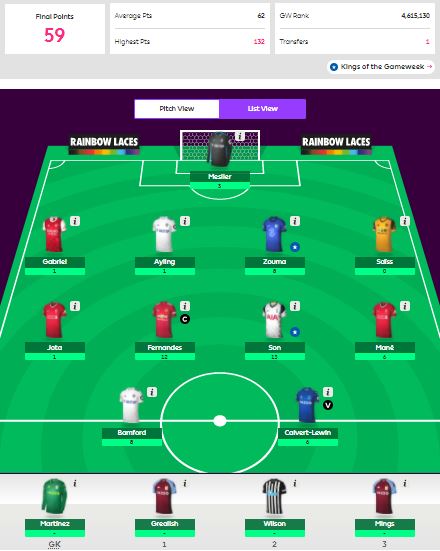 There has only been one Gameweek in the English Premier League this month so far, with a somewhat 'predictable feel' to the results. Nonetheless, Gameweek 11 has been a thriller. Fans have been treated to a roller coaster of dominant wins, classic comebacks and one managerial masterclass in the space of 48 hours.
From home, fans have the chance of managing their customised teams through the Fantasy Premier League. A team is awarded points based on individual performances following every Gameweek.
Gameweek 11 in the Fantasy Premier League saw over 10 million transfers made, with Liverpool's Portuguese attacker Diogo Jota still the most transferred IN player. The highest points scored were 132, on a week that averaged just over 60 points. Manchester United marksman Bruno Fernandes was the most captained, with Crystal Palace's Ivorian winger Wilfried Zaha emerging 'King of the Gameweek' with 18 points.
Other top transfers include Aston Villa's Jack Grealish, Liverpool's Mohamed Salah, Southampton's free-kick specialist James Ward-Prowse and Leeds United striker Patrick Bamford. A total of 132,212. Wildcards were played.
The Standard Sports Team (STANDARD SPORTS FC) is also on Fantasy Premier League and is currently ranked 632nd with 473 points in its league, STANDARD SPORT LEAGUE. The league has 786 members. On Gameweek 11, we scored 59 points.
To join the STANDARD SPORT LEAGUE, use the code 4xl49e or use the following link: https://fantasy.premierleague.com/leagues/auto-join/4xl49e
Here are the 10 managers who scored the highest points in Gameweek 11 in the Standard Sports League:
TOP 10 HIGHEST GAMEWEEK 11 SCORERS: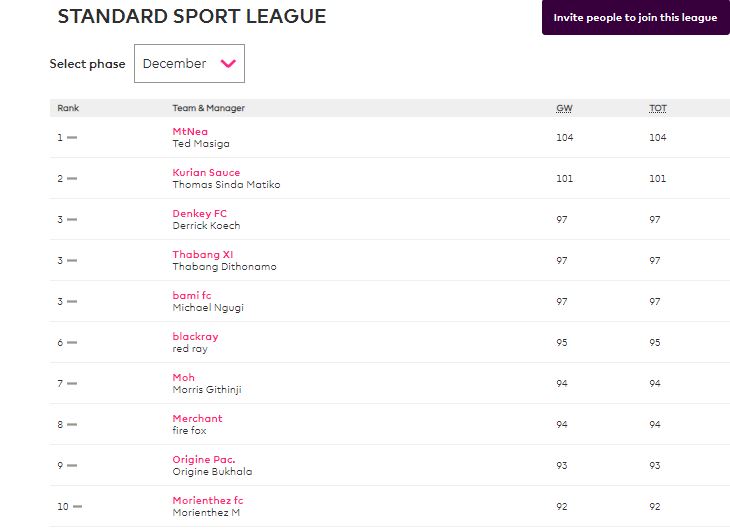 Below are standings (Top 10) for the Standard Sports League:
STANDARD SPORT FANTASY PREMIER LEAGUE STANDINGS AFTER GAMEWEEK 11 (TOP 10)