FIA president to visit Service Park in Naivasha tomorrow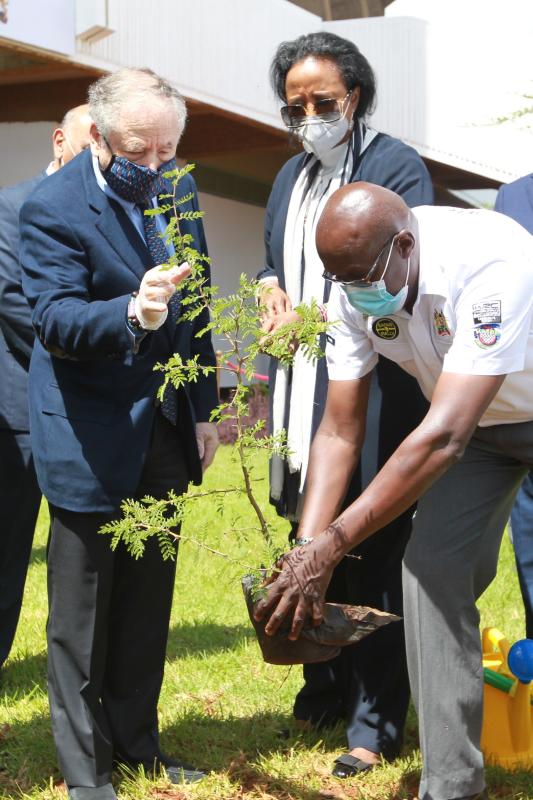 International Automobile Federation (FIA) President Jean Todt on Tuesday launched the WRC Safari Rally Greening Legacy Project in which organisers of the iconic rally aim at planting 19 million trees over the next three years.
The FIA supremo, who is in Kenya for a high-profile three-day visit, also met with Kenyan motorsports officials along with Sports Cabinet Secretary Amina Mohamed and her Transport counterpart James Macharia.
Todt lauded Kenya's WRC Safari Rally organisers for the efforts they have put in place to ensure the Safari's return to World Rally Championship (WRC) calendar.
The planting of 19 million trees symbolises the 19 years Safari has been out of the WRC calendar.
Todt, along with Amina, Macharia, WRC Safari Rally chief executive officer Phineas Kimathi, planted the Acacia Xanthophloea (Yellow Fever Tree) at the Safari Rally's Kasarani headquarters.
The FIA President, who is also the United Nations Secretary-General's Special Envoy on Road Safety, stressed the need for individuals to work towards ending road carnage that has claimed millions of lives.
"Accidents kill a lot of people especially in Africa where about 25,000 in every 100,000 people die every year because of road accidents. We need to take care of that," said Todt.
The FIA boss also praised the WRC Safari Rally's greening project.
"It's an honour for me to return to Kenya where the support for Safari Rally is massive. The tree planting idea initiated by Safari Rally and the Kenyan government will benefit the environment," he said.
"My relationship with Kenya goes back to over 50 years and it say a lot."
Macharia also expressed concern over rising numbers of road deaths.
"Road accidents are claiming more lives than Covid-19 and this must concern us," the CS said.
Amina said the tree-planting initiative will start with planting of an initial one million trees this year.
"Safari Rally Greening Legacy project joins the FIA/WRC family's model of giving back to nature. Our target is to create a Safari Forest at Kasarani and plant trees along the traditional safari routes in Kilifi, Mombasa, Kwale, Taita Taveta, Machakos and Makueni. We will also do the same in Murang'a, Meru, Nyeri, Embu, Kirinyaga, Kiambu, Kajiado, Laikipia, Isiolo, Narok, Nakuru and Nairobi."
The 2021 WRC Safari Rally has since been confirmed to run from June 24 to 27. It is for this reason that Todt is in Nairobi to assess the WRC Safari Rally's preparations for the eagerly-awaited return to the global calendar in 2021.
Yesterday, Amina also assured that preparations for the event are going on well.
"Kenya is ready to host the FIA/WRC Safari Rally on June 24-27, 2021. We have put in place the necessary personnel, infrastructure and operational manuals to guarantee the most successful event in our rallying history," she said.
Todt will today be engaged in series of meetings at the United Nations' Nairobi offices in his capacity as special envoy on road safety.
Tomorrow, he will visit the WRC Safari Rally's Service Park in Naivasha.