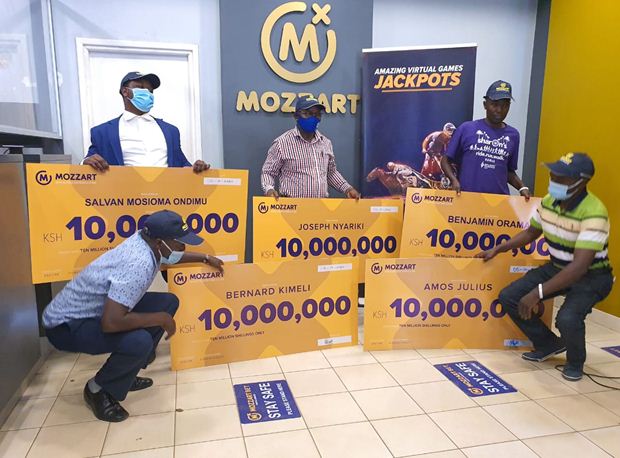 Since inception, Mozzart bet has produced more than 20 multi-millionaires who walked away with staggering payouts of at least Sh10 million each.
On the Mozzart Daily Jackpot, for example, Sh10 million has been paid out to a total of 17 different winners. This makes it an accumulative sum of Sh170m.
In January 2019, Kenneth Okoth, a 55-year-old tour operator became Sh10 million richer after correctly predicting the outcomes of 13 football games to take home the first-ever Mozzart Daily Jackpot windfall.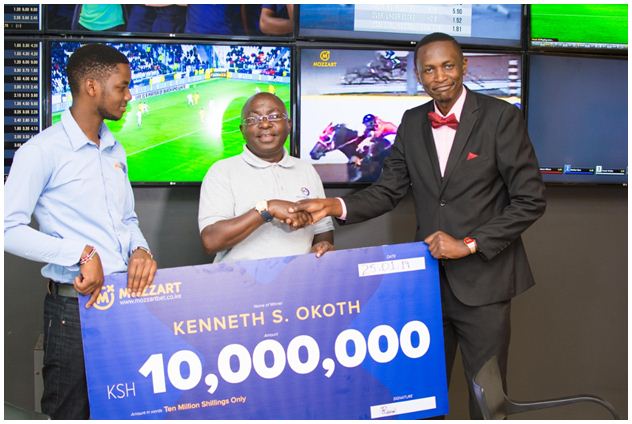 It was the first time Okoth claimed mega winnings despite trying his luck severally in different sites without much success. He placed the lucky bet on Tuesday, January 22 and waited for over 24 hours before all the 13 matches were played. From then on it has been winner after winner.
Then came August 2019, Thirty-six-year-old Joel Anjichi Buchichi, a Standard Five drop-out who worked as a gardener hit another Sh10 million courtesy of the Mozzart Daily Jackpot.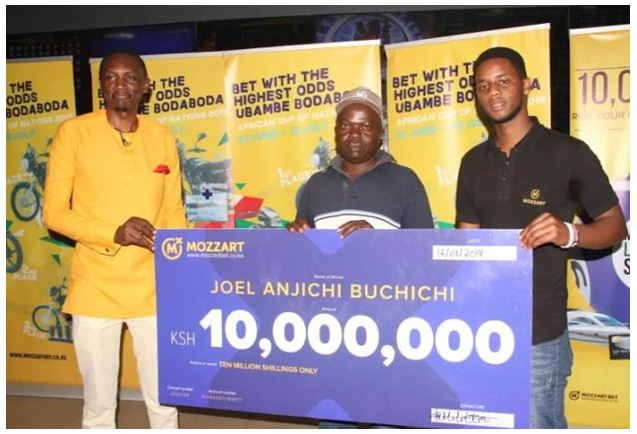 The elated father of three declared he had quit his gardener job following the windfall saying. "I cannot work in somebody's home again with this kind of money. " Buchichi used to live with his wife and three children in a one-room shack in Kawangware. The Standard Five drop-out had plans to buy land and build residential houses with the money.
THE MYSTERY MEN! 2020 LUCKY WINNERS WHO HID THEIR FACES: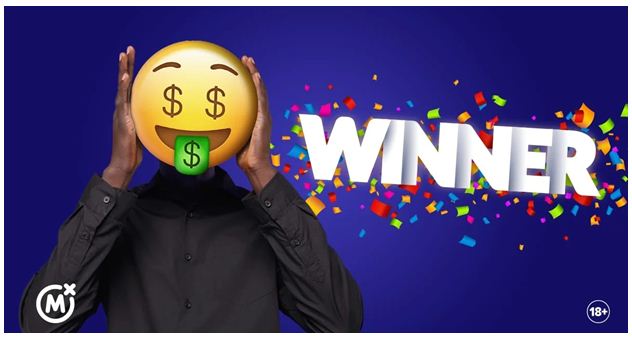 Tony Shaban, a family man from Nakuru County correctly predicted the outcome of 13 matches that were played on Wednesday, July 29, 2020. Earlier that week, A mystery man only identified as Erastus had also correctly predicted all Jackpot games that were played on Friday the 24th of July, 2020. They both had won Sh10 million each.
After receiving their windfalls, for personal reasons and also projecting the kind of 'Omba Omba' that obviously comes with it from family, friends and even total strangers, to manage expectations, both winners requested for their identities to be concealed.
"I have been playing on Mozzart Bet since 2018. What attracted me most was their Jackpot bonuses, at Mozzart even if I lose all 13 games I still get a Ksh 1,000 bonus for zero correct predictions just as a way of motivation. No other betting company has such an offer." - Mr. Shaban said.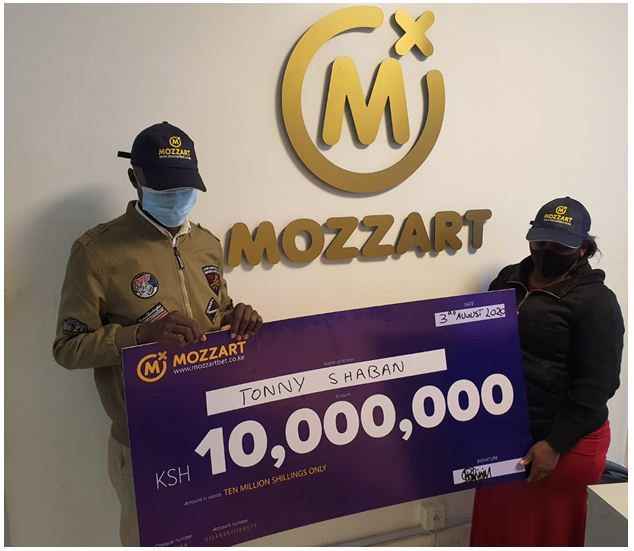 On what makes Mozzart Bet attractive Mr. Erastus said;
"I registered on Mozzart bet a long time ago but I have not been active. I started playing again when COVID-19 restrictions started. I received an SMS from Mozzart that every Monday, Mozzart will be giving out a HAPPY MONDAY BONUS to all active customers during the Corona period just to motivate them. Believe it or not, from the Sh 300 bonus I received on Monday that week, it is the last 50 Bob that made me a millionaire."
Duo wins Sh10 million each on Mozzart Daily Jackpot: It is the year 2020 that has seen more hits on the Mozzart Daily Jackpot. Even more striking has been the multiple hits on a single day.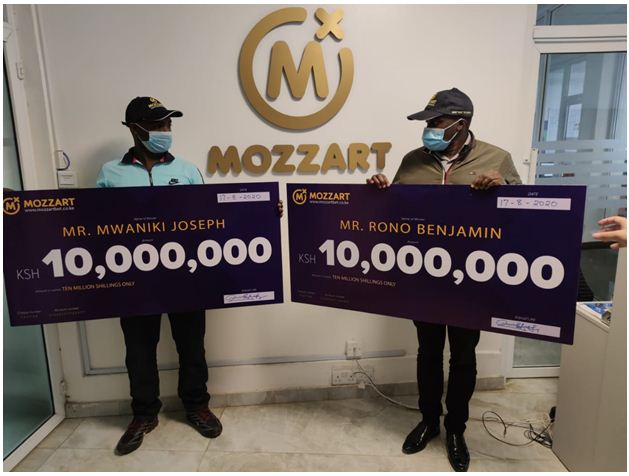 In August of this year, two men, Mr. Mwaniki Joseph, a farmer from Embu, and another one, Rono Benjamin from Uasin Gishu county correctly predicted the same 13 Mozzart Daily Jackpot games on the same day and were each paid out Sh 10 Million instantly.
Both Rono and Mwaniki placed their bets with Sh50 as the fixed stake. This was the first time Mozzart Bet paid out Sh 10 Million to two winners on the same Jackpot day.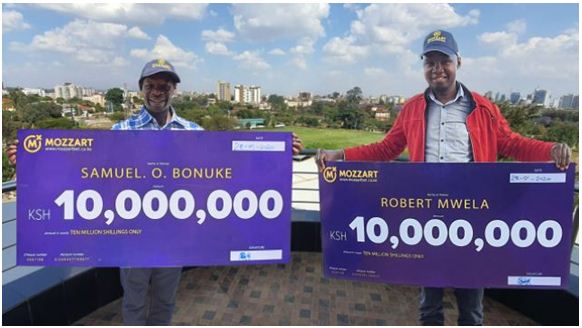 Bonuke Samuel and Robert Mwela hit Jackpots on the same day.
Mozzart Daily Jackpot is the easiest in Kenya. Guess what? In a span of just a week or two, Mozzart Bet provided another pair of Jackpot winners. From a fixed stake of only 50 Bob, Mr. Bonuke Samuel and Mr. Robert Mwela, a Nairobi based pharmacist, became Mega Millionaires after hitting Sh10,000,000 each on the same day.
BIGGEST NEWS OF THE YEAR: A sum of Shs 60,000,000 paid out on the SAME DAY!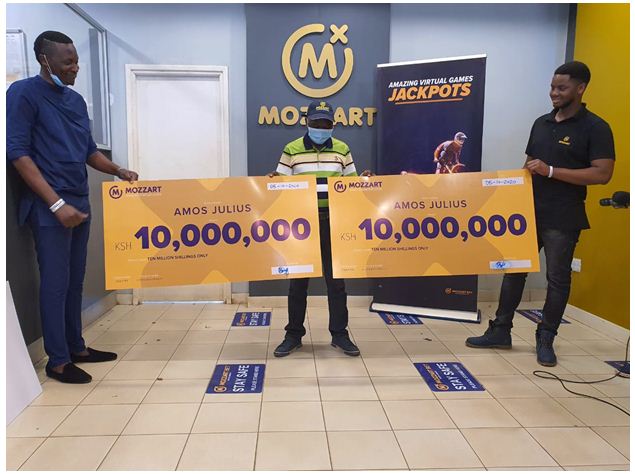 On the 30th of September 2020, Six Bet-Slips instantly won Sh 10,000,000 each on the Daily Jackpot for correctly predicting 13 Daily Jackpot games that were played between the 29th and 30th of September.
From a fixed stake of only 50 Bob, Mr. Benjamin Oramat, Bernard Kimeli, Salvan Mosioma Ondimu, and Mr. Joseph Nyariki struck Sh 10,000,000 each on the same day courtesy of the Mozzart Daily Jackpot! The fifth lucky man, Mr. Amos Julius placed the same bet twice thereby winning a double, a total of Sh 20 Million.
Unlike in other sports betting companies, the Mozzart Daily Jackpot winnings are not divided among winners, so instead of them sharing the Sh10 Million for 13 correct predictions, they each went away with the 10 M. Mozzart parting ways with a total of Sh 60,000,000 instantly.
Some of the winning Bet Slips in 2020:
Mwaniki - https://www.mozzartbet.co.ke/en#/ticket-status/2999-8938151-1840
Rono - https://www.mozzartbet.co.ke/en#/ticket-status/2999-6761168-1840
Erastus - https://www.mozzartbet.co.ke/en#/ticket-status/2999-4015655-1835
Shaban - https://www.mozzartbet.co.ke/en#/ticket-status/2999-4312769-1836
The Mozzart Daily Jackpot bonuses are awarded for 8, 9, 10, 11, 12 & 0 correct predictions. It is almost impossible to lose out on some Jackpot winnings. The curtains to the year are almost being drawn, try your luck today for a chance to join the 2020 Mozzart Bet Club of Multi-Millionaires.
Make A decision, Mozzart Bet!