Mashujaa: Unsung heroes in sports who see what others can't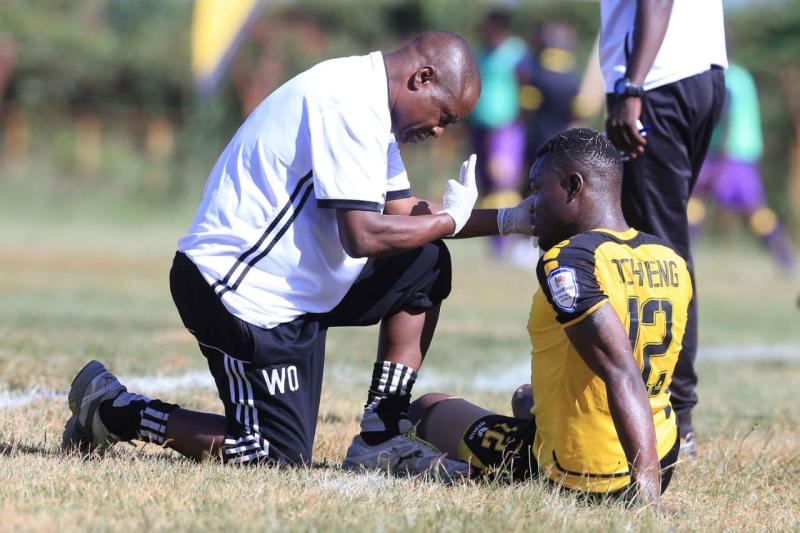 Gor Mahia were in their traditional green and white.
Few fans at Kenyatta Stadium in Machakos, for that day's Kenyan Premier League Round Three fixture between Gor and Tusker FC two years ago, remember what happened better than sports clinician Wycliffe Makanga.
It had been a warm day, but it was getting hotter. And with The Green Army troops pacing up and down the touchline and some perched on the terraces, Makanga, on the Tusker bench, would have wished for a more serene environment, but he needed to exclusively focus on his players.
That's what he's paid for: to monitor players and not watch the game or listen to profanities from the stands.
So, when in the dying minutes of the game, Gor Mahia's Ivorian striker, Ephrem Guikan, suffered a concussion after colliding with Tusker FC custodian Duncan Ochieng, the 55-year-old Makanga saw it all from the bench.
"After the collision, he went down in a heap. He didn't move and that was not a good sign," Makanga said in a phone interview on Sunday.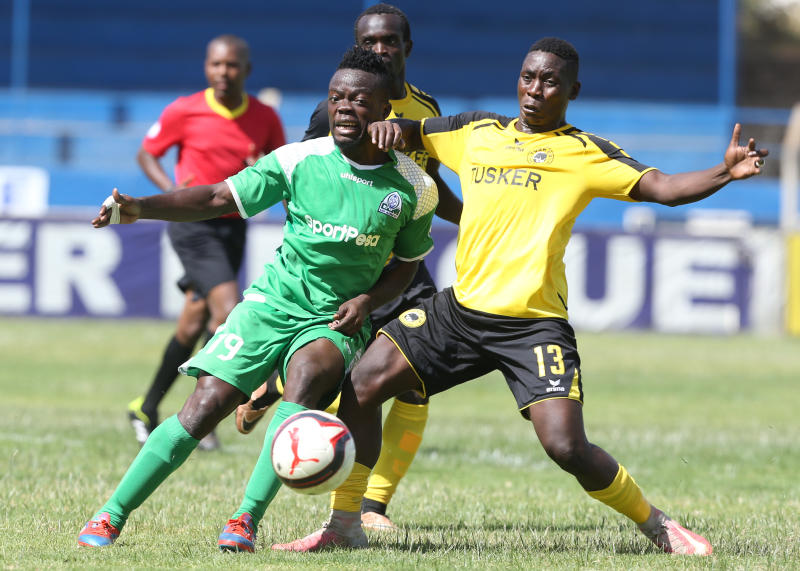 "I knew this was serious. Something was wrong."
As is the norm, a referee beckons the medical staff to attend to injured players. But in this case, that didn't happen immediately.
Take a quick survey and help us improve our website
Take a survey
By the time the call came, Makanga was sprinting across the field — a dash that would have had 100m world record holder Usain Bolt smile in admiration. Makanga just ran.
When Guikan collapsed, some fans became restless. They wanted their striker to get up and do what he was signed to do. To some, it seemed like one of those childish theatrics strikers pull when things go south.
Some fans jeered. Some called him names, while others with their hands on their heads, wished for a good turn of events.
A few had their mouths wide open as if to supplement the use of their eyes. It was difficult to comprehend. Once it became clear that Guikan wasn't going to rise as fast as they wished he would, the stands went quiet. Silence.
But the fans were wishing he would stand up. As it became clear that the Ivorian wasn't moving, their hopes began to fade. Their prayers were not being answered as fast as they wanted. Everything else but Guikan was moving.
Makanga was among the first to get to the injured player, who was now face-down and gasping. None of his movements seemed controlled or calculated. It was a race against time for the medic who has been on duty in over 1,000 matches.
"Our role as medics is to provide pitch-side emergency medical care to ensure sports injuries and other medical conditions are promptly addressed," Makanga said.
"Once players are injured, we must counsel them and at the same time, prepare the team's confidential medical data."
Welcome to the life of a sports medicine clinician in Kenya.
When Premier League heavyweights Manchester United won the treble in 1999, the club had three medical staff. That was then. Now there are up to 15 dedicated full-time professionals at each of the PL clubs, who are charged with ensuring their players are in good health and perform as expected.
In Kenya, things have been tough.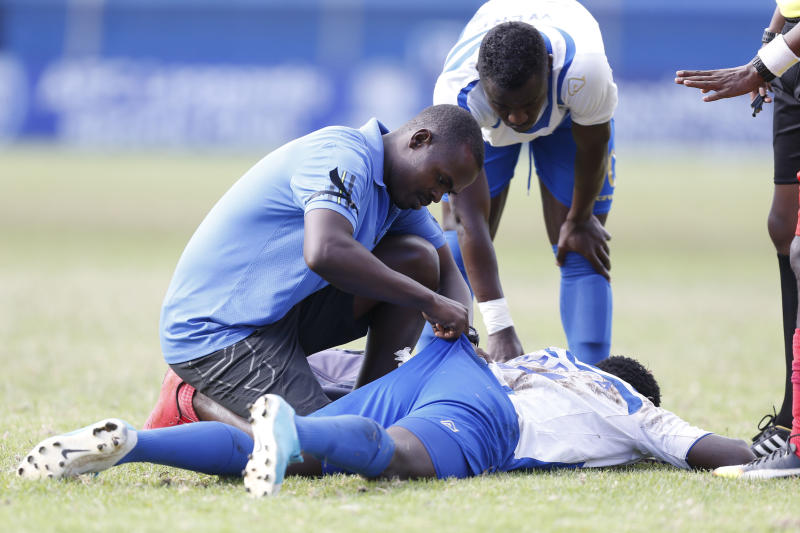 Some clubs have had to make do with a few qualified medical personnel while for the unlucky few, team masseurs are a perfect replacement. It has been that harsh.
"The recommended minimum for any medical personnel in the Kenyan league ought to be a physiotherapist. Save for big clubs, others have not met the minimum, so they rely on people who are called massage therapists.
"These could even be former players who have not had any training in sports medicine," said Dr Andrew Suleh, the former head of the Kenyan Premier League medical committee.
The role of the medics is to provide medical assistance in managing acute medical or surgical emergencies and injuries, but according to Gor Mahia FC team physiotherapist Fredrick Otieno, they do more than that.
They are like the players' second family. They share secrets, get to know who partook what in which wild party over the weekend, or who has a loathsome infection…they know it all.
According to Otieno — who has spent over 10 years with Gor Mahia — medics spend most of the time with the players, more than any other member of the club.
"Apart from health issues, we also solve many personal problems. The easiest way to know if a player has an injury is through self-reporting. I encourage players to be as open as possible," Otieno said.
But Otieno says they are a forgotten lot.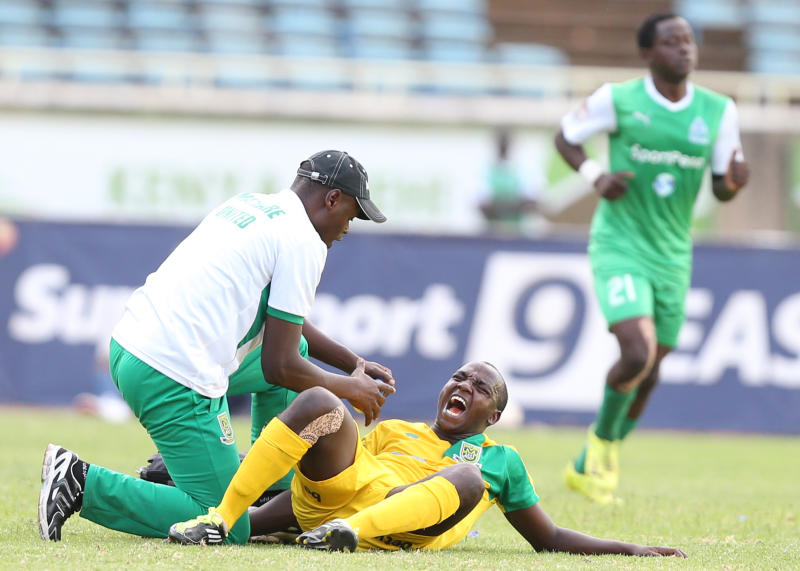 "We are mostly blamed when a star player is injured or when an injury takes long to heal, but hardly do you hear of our success when things go as expected," he said.
He says their former head coach Hassan Oktay used to tell them: "If the players fail, I put the blame on you medics."
To Kariobangi Sharks FC physiotherapist John Kemboi — who has specialised in injury prevention and rehabilitation — poor training regimen, uneven playing surfaces, or poor nutrition, may contribute to unending injuries of players.
"World class players are not prone to injuries because they have good facilities at their clubs. They also have good diet coupled with healthy player management programmes," he said.
For teams to get their value at the end of the season, they need to conduct thorough medical tests including cardiac screening that involves carrying out an electrocardiogram (ECG) or run urine tests to check out for pre-existing conditions.
"Unfortunately, this does not happen in our league because some clubs have only one physician," said Mathare United FC Physiotherapist Wycliffe Omom.
"We still need to train more sports medics, which will help improve our capacity. Many teams are yet to fully engage sports medics. Stakeholders need to work hard and support the existing medical personnel."
Faithful players will disclose when they have an injury, but that's only in the ideal situation; it hardly happens lest they lose their place in the team.
"There are strict measures when it comes to disclosure of injuries by world class players. They are willing to disclose what they are suffering from, but at times, our local players aren't willing to tell the medical team of their injuries for fear of losing their places in the team," said AFC Leopards physiotherapist, Bonventure Odire.