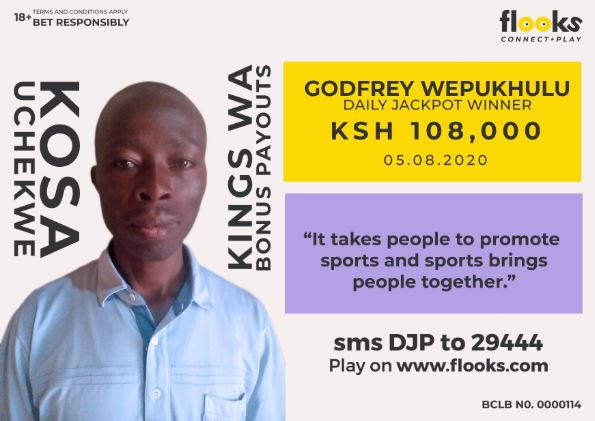 Congratulations Godfrey Wepukhulu for winning Sh108,000 Flooks Daily Jackpot on 5th August 2020.
Godfrey placed a bet of Ksh 10 and scored 10 out of 10 correct predictions on the Daily Jackpot.
The Flooks Daily Jackpot is a fun combo of 10 games for Ksh 10 under the 'Kuwa Lucky Na Laki' campaign that continues to offer punters an opportunity to challenge themselves to make an income while deriving uttermost gratification by backing their favourite teams in different sports leagues and tournaments.
The excited Wepukhulu attributed his win to a keen analysis of trends and history of the teams before placing his bet.
He also observed that "it takes people to promote sports and sports bring people together" cementing the Flooks mantra of 'Connect & play' which aims at promoting the aspirations and dreams of its fans through sports betting.
Flooks betting company- the HOME of JACKPOTS and KINGS of BONUSES, has remodelled the face of sports betting to become Kenya's most trusted and fastest-growing betting site by through transparency and responsiveness in its dealings.
Punters have expressed satisfaction with the easy to use Flooks betting interface, fast pay-outs, juicy bonuses, and professional customer service.
By cracking the code of punters' needs, Flooks betting company has customized its products best-serve its customers; now punters can enjoy betting at zero internet cost while on Flooks site as well as enjoy a minimum betting stake of ksh 10. Into the bargain, new customers are entitled to a FREE JACKPOT bet of Ksh 100,000 and 100% registration bonus while the existing punters get a 20% deposit bonus every day.
The mid and weekend million Jackpot which runs every Wednesday and Saturday is the icing on the cake where punters stand a chance to win Ksh 1000,000+ with a stake of Ksh 25 only for 13 games and the lofty bonuses starting from 10 to 12/13 correct predictions.
Join and place your Bet today with Flooks betting company- the HOME of JACKPOTS and KINGS of BONUSES Today and make your quick cash. SMS BET to 29444 or play on