Belgium-based Omollo donates to 300 Dandora families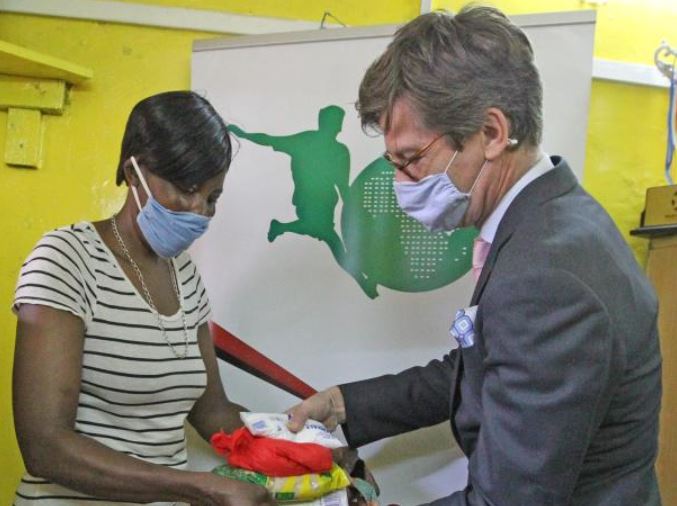 The Johanna Omollo Foundation hosted the Ambassador of Belgium Nicholas Nihon when the Embassy donated food and non-food items to 300 vulnerable families on Tuesday, in Dandora.
The package includes one-kilogram packets of rice and sugar, two-kilograms of maize flour and wheat flour, 500gm of salt, 1 piece customised mask, two packets of sanitary towels, one litre of salad, potatoes and cabbages worth about Sh300,000.
"We are so grateful for Johanna Omollo Foundation for giving us food. I have not been getting enough food since most of the hotels closed down and working at the dumpsite has been tough because we work for longer hours for less pay since March due to the covid-19 pandemic," said Jane Nyambura, a mother of three.
This is the fifth time in the last three months that the foundation, which is associated with Harambee Stars midfielder Johanna Omollo, is giving something to the needy something.
The Belgium ambassador praised Johanna Omollo as a great person who has succeeded in football and is also appreciated in Belgium.
"We are happy to partner with the Johanna Omollo Foundation as an organisation assisting the vulnerable in the community," said the soft spoken embassy boss.
"I urge sports clubs and federations to draw a road-map for helping sports people who are in need. Such plans will also aid in advising authorities on how safe it is to resume with sports activities after they stalled due to the covid-19 pandemic," he added.
Nihon later visited Bernice Muthoni, who is a Form Three student at Gatugi Girls.
Muthoni thanked the foundation for providing for her needs.
Johanna Omollo Foundation chairman Godfrey Okoti is hopeful that stalled works at Dandora Stadium will resume once the pandemic is over.