How tennis player Nyabera overcame adversity to represent Kenya in global events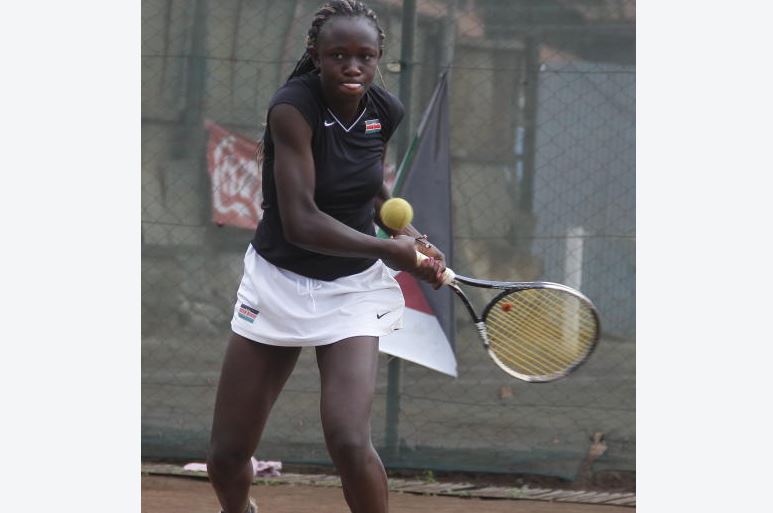 She was hit very hard and where it hurt most, snatching the most important people in her life but tennis star Faith Nyabera never gave up.
Losing her mother in 2011 was a big below to the then 11-year old girl and as if that was not painful enough, five years later she woke up to the brutal murder of her father.
On that dreadful morning a lifeless body lay on the side of the railway line in Kibera slums and that is what remained of her father, a man who had ensured she never felt her mother's absence.
Her whole world was shattered as what had happened was too much to bear for a 16-year-old girl.
Together with her sister, they were left under the mercy of their kin who would then decide who among them would take them in.
After their father's burial it was decided that they stay with their cousin at least until they finished school. However, their new home was unbearable as they struggled to fit in.
"After our father's death we went to stay with our cousin but all went wrong and we were struggling a lot. It was hard to concentrate and perform well in class because the environment at home was not favourable," Nyabera said.
As destiny would have it, their fortunes changed as Nyabera and her sister got a new home, family and mother filling the void in their lives.
Nyabera's meeting with Veronica Osogo in 2010 was predestined as she would come to her rescue years later when she had lost both parents and was on the verge of being homeless.
She first met Osogo while in Standard Four at Shadrack Kimalel Primary School.
"She had a coaching programme in our school and that is how I met her. I followed my friends because whenever they went to train I was left alone so I tried playing and after some sessions I developed interest in the sport and continued playing," she said.
Osogo the founder of Zion Zone Tennis Foundation had started a school coaching programme aimed at transforming lives through tennis.
Under Osogo, Nyabera improved bit by bit and months later she started participating in age group competitions. However, tragedy struck and she lost her mother in 2011.
"Losing my mother was too painful to bear; I was very young and needed her to take care of me and my sister. I had just lost the most important person in a child's life and so I played tennis to overcome grief," Nyabera said.
To ensure that she took her game a notch higher, Osogo would ask older girls from her neighbourhood to take her along to the Public Service Club for training.
"Coach requested my father to allow me accompany other girls for training at the club and that was the first time I trained on the court. It was interesting because the surface was better than our school training ground and with my father's permission I trained there more," she added.
In 2012 she made her junior international debut at the International Tennis Federation (ITF) Under-14 tournament held in Mombasa.
She also won a number of titles in local tournaments that year before making her first trip out of the country to Dar Es Salaam, Tanzania for ITF Zonals.
"Apart from the exposure I did extremely well than I expected. It was my first time at this level of competition and I finished third."
She competed in ITF junior events across East Africa prior to enrolling at Olympic Mixed Secondary School in 2015. The same year she qualified for the Africa Junior Championships that were held in Tunisia.
"I was excited to travel out of East Africa even though being a knockout competition I exited at the initial stages but it was an awesome experience. I got to play more with top players because even when you are beaten you are given more matches to help improve in the game."
She also made her first appearance at the East Africa Secondary School games held in Huye, Rwanda in 2015. The following year she excelled at the ITF Zonals once again to qualify for the 2016 Africa Junior championships held in South Africa.
"It was very tough balancing between academics and playing because the higher you go the more demanding both tasks become. However, I tried my best to make sure that none suffered because they were both very important to me."
In 2016 she suffered yet another loss when she woke up to the murder of her father. At 16 years she had lost both parents.
"It was devastating, I felt like it was over for me, the fear of having to take care of myself and with no one to run to in times of need scared me a lot. Knowing that he was snatched from us broke me," Nyabera said.
Osogo who had formed a strong bond with her stayed close comforting her and her elder sister and stood with them.
"After their mother died their father made sure they never felt her absence by providing all they needed and being there for them. I knew that his death will not only break but also leave them hopeless and I had to step in because I was closer to the younger girl (Nyabera) more than their relatives," Osogo said.
She stood by the girls through the funeral and burial just to ensure that they did not suffer more.
Thereafter, they returned to Nairobi to continue with their studies with the family deciding they stay with their cousin.
Nyabera would once again take to the court to beat her grief just like she had done when her mother died competing at the annual Kenya Open Tennis Championships.
Osogo continued monitoring their progress as she could get distress calls from their respecitve schools as they struggled with their new life.
"All was not well with them because they were struggling to adapt to their new life. I could get calls from school and so I kept checking on them to the point their cousin barred me from visiting them at home. They were suffering and I think it is because they were not allowed time to grieve. Their cousin might have expected them to move on very fast but they couldn't," Osogo added.
In her effort to rescue them, she tried reaching out to their aunt asking to allow her take them in but she refused saying the girls' cousin and relatives were capable.
"They were suffering and all I wanted was to give them a home so they could feel safe and loved. I discussed with my mother and she agreed that I take them in, but their aunt could not allow me because I was a stranger."
Nyabera's aunt would learn of their plight after her cousin threw her older sister out of her house forcing her to travel to her place.
"I had even travelled to Busia to meet their aunt so we could discuss the girls well-being but she refused to listen to me it was only after Josephine (Nyabera's sister) was forced to stop learning and go to stay with her that she invited me to her house so we could find a way for helping the girls."
Back in Nairobi Nyabera was living in fear of suffering the same fate as her sister but finally Osogo was allowed to take the girls after the 2016 December holidays.
"They started living with us in January 2017 and we have made progress because they were hurting emotionally at that time and I had to initiate their healing process," Osogo said.
Gradually, the girls regained their lives as well as confidence with Nyabera perfecting her tennis playing skills.
Since then she has represented Kenya in various international assignments while still in school and after school. She says that her former school Principal Maurice Okumu always treated and referred to her as his daughter making it easy for her to learn.
"He (Okumu) cared for me, I was his daughter and he made sure that I got all the help I needed to catch up with the rest after missing classes when on national duty. The teachers were also very supportive and offered me help whenever I needed them."
Of his 'daughter' Okumu says her discipline, courage and willpower to overcome adversity helped change many students in the school.
"Many looked up to her because she was very disciplined and hardworking. Her courage dealing with all the setbacks in her life gave hope to many students and even those who had thought that life was unfair to them had a change of heart thus embracing hardwork and discipline," Okumu said.
Nyabera has also excelled in tennis and represented Kenya in the 2018 Africa Youth Games held in Algeria.
Last year she also flew the national flag at Africa Games in Morocco, she has also represented Kenya in FedCup in 2018 and 2019 both staged in Montenegro.
She is currently a student at Kiriri Women's University pursuing a course in Business Administration while her sister is a student at the University of Nairobi.
They have been able to study without financial troubles thanks to their late father's employer who committed to fund their studies to university level.
Osogo provides books pens and all the required learning material in addition to their basic needs.