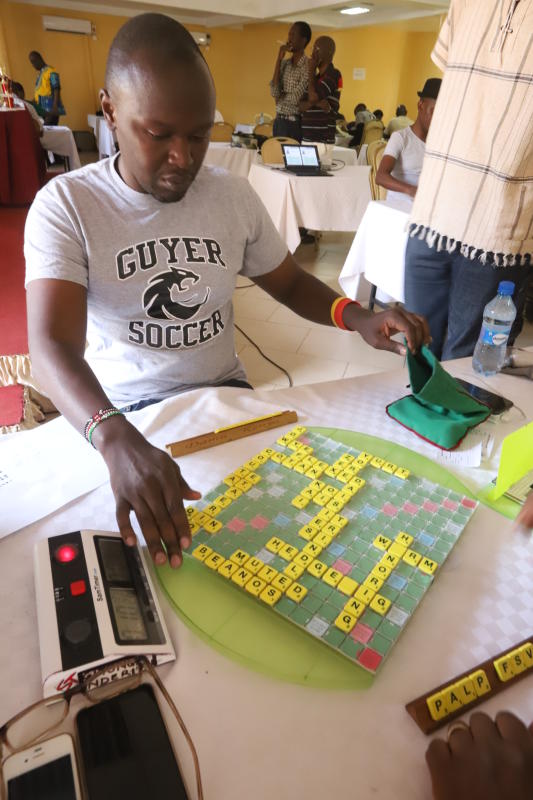 Kenya scrabble seed two Allan Oyende bounced back to winning ways to claim the Bungoma national Scrabble Circuit at Elegant Hotel in Bungoma County over the weekend.
Oyende lost both the East Africa and Kenya top spot to Nderitu Gitonga after missing the first circuit and finishing a distanced sixth during the Kitui circuit last month.
The win was Oyende's first in the 2020 Scrabble Kenya calendar of events. He defeated Bernard Koyyoko and Joash Manyasa 500-299 and 449-410 respectively in the penultimate match to win gold with one match to spare.
The wins saw Oyende complete 13 wins out of 18 matches with a cumulative winning spread of 1,494 points followed by Bernard Koyyoko, who is second with 12 wins and 500 points.
"It wasn't easy but I did my best. I just have to keep putting in the work and see how it goes. I had a slow start but I believe I will improve as the season continues" Oyende said after the win.
Joash Manyasa got bronze with 11 wins and 593 points as Patrick Litunya from Machakos County and Scrabble Kenya's chairman Bernard Amuke finished fourth and fifth respectively.
In the Intermediate division, Tom Mboya won gold with two rounds to spare to finish with 16 wins as Saul Alukhaba, who registered 12 games, was second. Daniel Were bagged bronze and the best student title.
[Washington Onyango]
Fourth place went to Hillary Chepkwony from Kisumu County while Frederick Gitagia closed the podium.
The best female award went to Wenwa Akinyi after bagging 11 wins and 143 points followed by Millie Kikechi with nine wins.
High game went to Allan Oyende with a total of 630 against Dan Musuku as the most improved rating went to Tom Mboya with 91 points.