Swimming: Youthful Soya awards winner eyes Olympic medal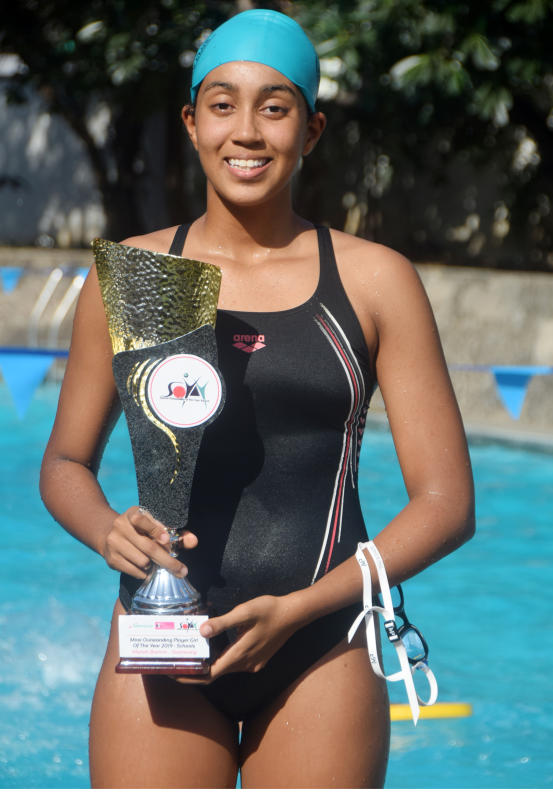 Mombasa Aquatic swimmers smash four-year old national record at Coast Level Two gala in Mombasa.
It's constant practice and resilience that redefines 13-year-old swimmer Maria Bianchi.
Anytime she steps onto that board ready for the start whistle, determination is evident in her eyes.
She will dance on her tiny feet, adjust her goggles, and raise her hands in anticipation. And as the signal to dive in for the race beeps, the swimming sensation knows this is yet another chance for her to don another gold medal. They've been numerous and countless, but also saliet.
And three of them came at the weekend as she won in her three specialities at the Coast Level Two swimming championships at Bandari College in Mombasa. That has been Bianchi's way of life. Winning seems to be her hobby.
Mombasa Aquatic swimmers stole the limelight after they shattered a four-year old national record in boys' 12-13 years 400m freestyle relay.
Coached by national coach Abdul Malik, the Aquatic team of Sabbah Leunoto, Joshua Masakha, Ali Nahdy and Ivan Hart timed 4:20.16 to set the new record from 4:26.31, which was set by Bandari Swim Club in 2016.
Swimming for Blue Swimming Club, Bianchi won girls' 12-13 years 50m backstroke, 100m breastroke and 200m freestyle races.
In 50m backstroke, she clocked 35.88 seconds for victory with Joy Aleyo and Zianna Alidina of Mombasa Aquatic and Aga Khan Academy timing 37.46 and 40.42 seconds respectively.
In 100m, Bianchi won in a time of 1.27.98 with Tugi Mwige of Mombasa Aquatic clocking 1.29.51 to finish second. Bandari's Emma Wambui was third in 1.32.12.
Bianchi then completed her tremble with victory in 200m freestyle (2:27.82) beating Mombasa Aquatic duo of Tugi Mwige (2.36.03) and Joy Aleyo (2.38.35) to second and third positions.
Bianchi has set her sights on winning major competitions despite her tender age.
She wants to do things differently. And she's been working towards achieving her goals. First, she won the most outstanding girl athlete at the 2019 Safaricom Sports Personality of the Year Awards (Soya).
"I like swimming. It's fun to jump into the swimming pool and swim as fast as I can. Actually, I am hooked to swimming," she said.
"Sometimes I watch videos of Olympic swimmers and admire them. I want one day to make it to Olympic Games and realise my long cherished dream," she said.
"Multiple Olympian Michael Phelps is my idol and I would like to emulate him. I try not to think of the pain and challenges swimmers undergo," said the soft-spoken teenager, who loves pasta and ice-cream.
"The highlight of my swimming career was on January 24, when I was named the outstanding girl athlete for 2019. I screamed and was left breathless as I received the award."
Maria's coach Mohammed Dosa said Bianchi is becoming one of the top swimmers in the country.
"If your child enjoys something, which is beneficial to him or her, let them continue doing it. Why send them out to do something else when this is the something they enjoy doing?," asked the coach.