Evans takes Monte Carlo lead from Toyota teammate Ogier
SPORTS By AFP | January 26th 2020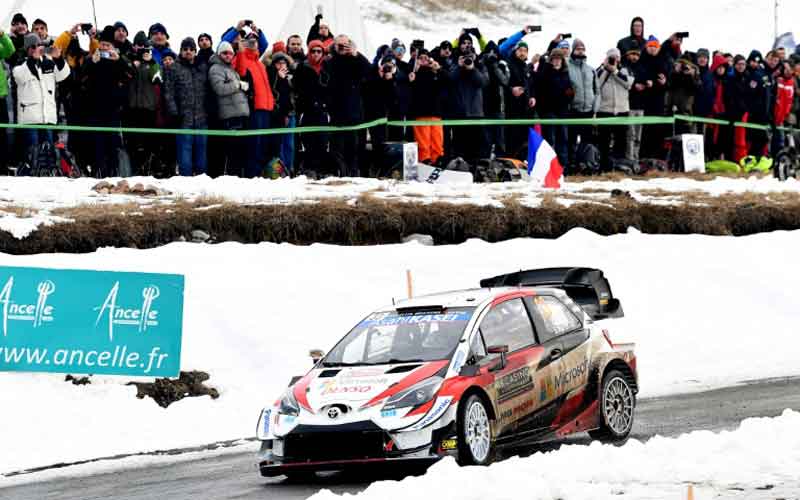 Welsh driver Elfyn Evans took over the Monte Carlo Rally lead from Toyota teammate Sebastien Ogier on Saturday, putting himself in pole position to strike an early season blow over the six-time world champion.
Ogier, going for his eighth Monte Carlo win, led overnight but after clocking the quickest time in the 10th stage Evans held a 4.9-second cushion over the Frenchman.
"I was a little optimistic with the accelerator in the last icy corner of the last special and I went off slightly," said Evans whose lone career world championship victory came on home ground in Wales in 2017 when he was a Ford driver.
"Winning Sunday is my goal but there is still a long way to go," added the Welshman, saying that he has not received any team instructions to allow Ogier to pass him on Sunday.
Ogier, who switched to Toyota from Citroen after the French manufacturer withdrew from the championship at the end of last season, said he would be happy with any spot on the podium on Sunday.
"It doesn't matter which place -- it will be a good result."
Ogier then tweeted: "We had a good day, quite consistent. I just kept my strategy and didn't take too much risks in the tricky sections.
"In the last stage I was too cautious and lost 10s with only 4 km of ice, but gaps are still very close."
Thierry Neuville is third overall at 6.4 secs in a Hyundai.
The Belgian has been left to fly the flag for the Korean constructor with fourth-placed Sebastien Loeb after world champion Ott Tanak's debut for Hyundai ended prematurely with a spectacular crash on Friday.
The Estonian and his co-driver miraculously walked away unharmed after their car somersaulted off an icy road in the fourth stage and plunged 100 metres down a hillside.
"Everything is fine, all the tests at the hospital are good so there's no worries," Tanak said in the French Alpine town of Gap on Saturday.
"The safety devices really did their job."
Tanak, 32, who won the drivers' championship last year with Toyota, did not explain the crash.
"It was an accident and accidents happen," the Estonian said. "It was a high speed accident but it's okay, all okay."
The Rally of Monte Carlo concludes with four stages on Sunday.