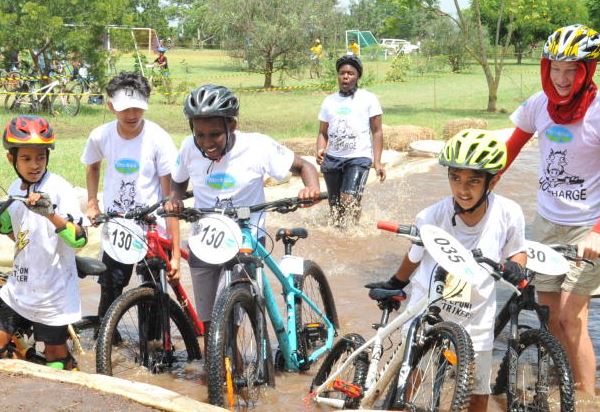 Nairobi's Brookhouse International School swept the boards in both girls and boys' open cycling categories as the 22nd edition of the annual Hog Charge ended at Peponi School, Ruiru.
The Hog Charge, which is sponsored by milk processor Brookside Dairy, is Kenya's national mountain bike competition for teens.
It is also a charity event whose proceeds go towards supporting the Rhino Ark, which is involved in a conservation project that focuses on the Mt Kenya water towers.
The event, which is a team competition, saw groups of four riders navigate around a course of checkpoints in the shortest time possible on mountain bikes. The teams were entered in either the under-12, under-14 or open classes.
In the girls' open race, Brookhouse's team, "The Mosquitoes" weathered the hot and dusty conditions at the Sukari Ranch to triumph in 11.54:00, while the boys' team from the same school, the "Ram Riders", hit the tape in 12.00:00 to emerge victorious.
In the under 12 race category, Kenton College lifted the boys' diadem in 10.57:00, while Banda School were second in 11.00:00. Peponi House finished third in 11.08:00.
Gilgil's Pembroke School clinched the boys' under 14 race in 10.42:00, ahead of the Banda School (10.49:00). Nairobi Academy were third placed after returning a time of 10.58:00.
Peter Wasonga, Brookside Dairy's marketing manager and Peponi School's marketing head Ngina Pratt-Mburu, hailed the high turnout at this year's event, which saw over 600 riders take to the challenging course that included the dreaded mud gauntlet at the penultimate stage of the race.
"The competitors have shown extreme resilience in navigating this year's race course, which saw over 600 cyclists navigate through a host of route obstacles including braving a mud bath at the dreaded gauntlet at Peponi School," Wasonga said.