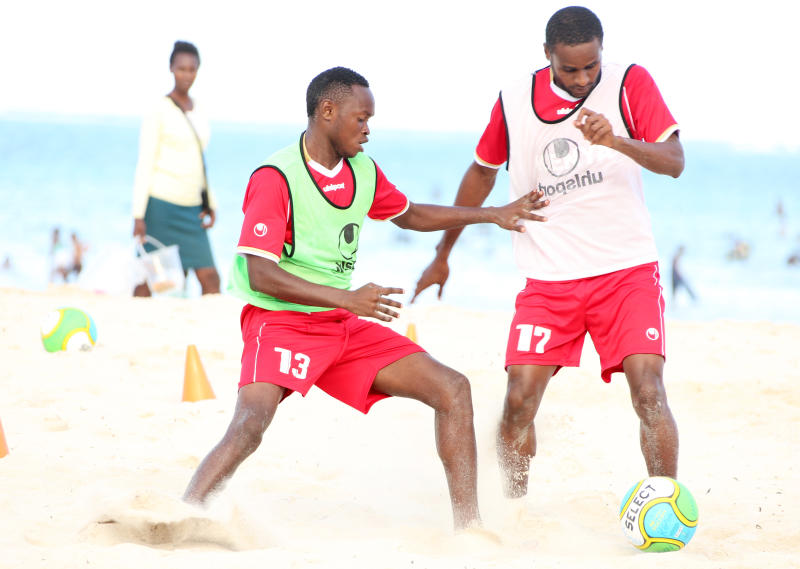 Beach football is basically a football match played on sand, preferably a beach. It's a game that lays focus on skill, accuracy, technical ability and agility.
It traces its roots from Brazil due to its popularity and the nation's passion for football.
SEE ALSO: Kadoka: From drug addict to a star footballer
As a result, the football pitch moved beyond the normal stadiums into the beach.
Beach football is a sport full of plasticity, aerial plays, spectacular dribbles and goals.
SEE ALSO: Athletics: Doha Diamond League meeting brought forward
The World Championships of beach football were started by Koch Tavares – promoting early success and attracting commercial interest to the game.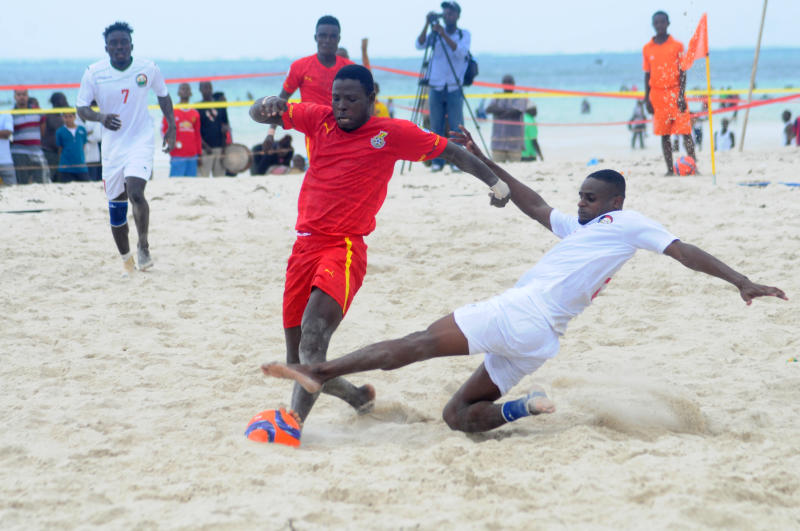 This sparked the developments of pitches as well as growing demand for the sport around the world, consequently giving birth to the Pro Beach Soccer Tour in 1996.
SEE ALSO: How Shujaa skipper Amonde got into rugby by default
However, it was until May 2005 when beach football was recognised by FIFA when the first ever World Cup took place in Copacabana Beach, Rio de Janeiro.
Currently, beach football is played in 75 countries within the six FIFA Confederation zones making it one biggest sporting events around the globe.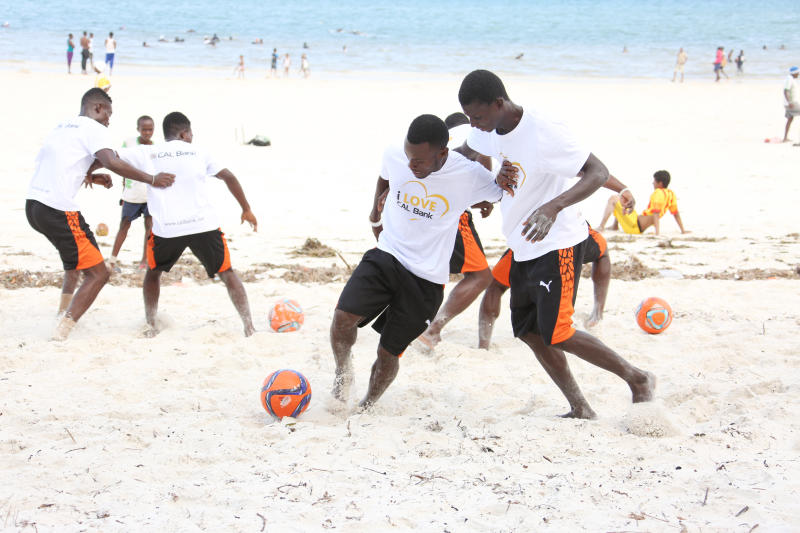 Major popular beach soccer tournaments include the FIFA Beach Soccer World Cup, Intercontinental Cup, Mundialito de Clubes among others.
Here are the rules of Beach football as explained by GameYetu;
There are unlimited substitutions
Just like the normal soccer matches, beach football is played between two teams. Each team has five players each, including the goalkeeper. There are unlimited number of substitutions during the game.
Disciplinary sanctions
Beach football uses association football rules as both yellow and red cards are issued to players in cases of offense or misconduct. However, if a player receives a yellow card, he/she is required to leave the pitch for 2 minutes as the teams continues with the game.
In the case where a player has received a red card, he/she is dismissed from the game.
No shoes allowed
In a beach football match, players are not allowed to wear shoes. However, they're allowed to put on ankle guards.
Three twelve-minute periods
Additionally, unlike normal football beach soccer game can last up to thirty-six minutes of 3 sessions of 12-minute each.
No draws allowed
If the game ends in a draw, there three additional minutes, which is this is followed by a penalty shootout.
Goalkeeping rules
Goalkeepers are allowed to move freely around their penalty area with the ball in their hands.
Goalkeepers also have four seconds to get the ball into play, either by kicking the ball or throwing it using their hands.
There is a penalty inform of a free-kick if the goalkeeper scores by throwing the ball or by kicking the ball out on the volley.
More importantly, players cannot return the ball to their goalkeeper unless an opponent has touched it first. If this rule is broken, the opposing team gets a free-kick in return.
There are direct free-kicks only
In beach football, most pitch offenses are punishable with a direct-free-kick. However, unlike normal football, walls are not permitted.
Kenya is among the countries where beach football has been adopted, with the national side Harambee Sand Stars having taken part in major continental competitions including the Africa Cup beach football.