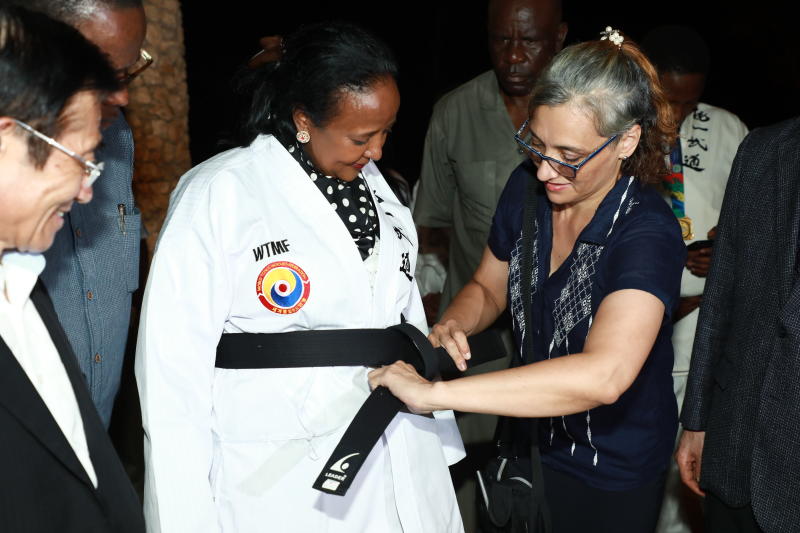 It's yet another successful outing for the national team as Tong-Il Moo-Do international championships end in Mombasa.
It will take something special to stop Kenya from calling shots in the Tong-Il Moo-Do international martial arts championships.
For the seventh year on the trot, Kenyan players left no doubt on who's the king and queen in the martial arts sport.
And for the first time in years, Kenyans had their best ever performance as they triumphed in the 2019 Mombasa Open event at Aga Khan Academy, Mombasa.
The national team, Jasiri, successfully retained the overall title after bagging a record 113 medals.
This was the best performance since the inauguration of the event in 2012.
In 2017, Kenya won 75 medals and bagged 39 medals last year.
However, this year was different. The hosts floored world-class countries such as Philippines, Iran and South Korea to bag the overall title.
Kenya won last year's event with 14 gold, 13 silver and 12 bronze medals but it was a masterclass this year. They bagged 31 gold, 36 silver and 46 bronze medals.
Kenya's captain Elvis Malipe said fielding a strong team was the secret for the team's good show.
"We fielded very strong teams in all categories, which was an added advantage," said Malipe.
Other teams that took part in the two-day tournament included Philippines, South Korea, Japan, Nepal, Paraguay, Democratic Republic of Congo (DRC) and Zambia.
Others are Ethiopia, Congo Brazzaville, Iran, Thailand and Ivory Coast.
In individual performances, Paul Owino won Kenya gold medal in men's fly weight with Kidae Dzilix from Congo Brazzaville grabbing silver.
Mangal Shahi from Nepal and Kenya's Morris Sila won bronze medal each. Washington Burumerk led four Kenyans to win the top four medals in men's bantam weight category. Burumerk won gold with Festus Baraka settling for silver.
Boniface Omanyi and Kelvin Macharia both won bronze. In men fly weight, Kenya were contented with two bronze medals through Fredrick Omollo and Athuman Bakari in the event won by Marshude Delos from Philippines. Thailand's Thiradet Mwepae settled for the silver.
In men's freestyle individual, Carlos Moreyra from Paraguay was unstoppable after he demolished his opponents on his way to win gold on 9.3 points.
Kenya's George Omollo bagged silver with 8.8 points as Japan's Mitsutaka Aihara won bronze with 8.6 points. In junior boys' greenbelt forms, Kenyan team of Rodney Sumba, Jerameel Madmana and Jephanny Bana scored 8.5, 8.4 and 8.2 points for the gold, silver and bronze.
Kenyan girls Precious Matar (8.5), Kula Nyambura (8.3) and Catherine Matar (8.2) also shone in their categories.
Kenyans also also in the junior boys whitebelt category.