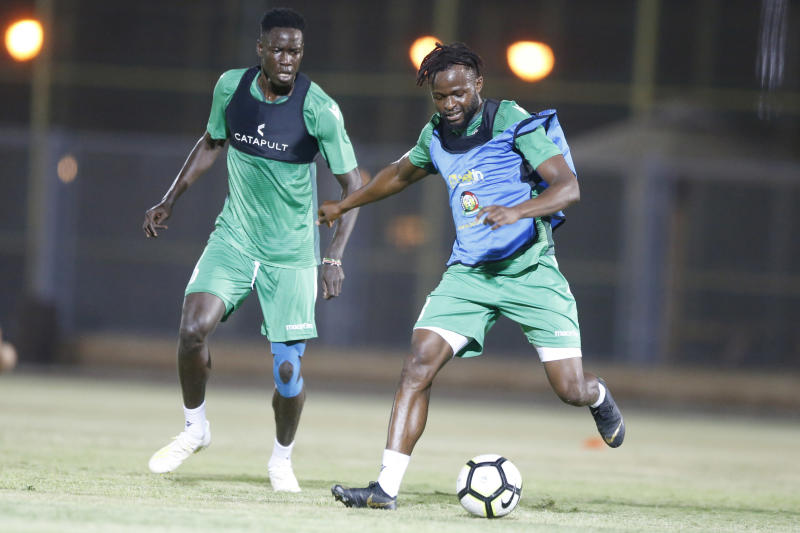 Since featuring for Harambee Stars at the 2019 Africa Nations Cup finals in Egypt, Joseph 'Crouch' Okumu, 22, has established himself as a key component in the national team.
FIRST OF ALL, CONGRATULATIONS ON SECURING A DEAL TO SWEDISH TOP TIER SIDE IF ELFSBORG. HOW'S THE FEELING AND DID YOU EXPECT IT?
SEE ALSO: Jonah Ayunga born to a Kenyan father joins English football club
Thanks a lot. Yeah, it was a great feeling to join Elfsborg because it is a step that I believe will lead me to greater heights.
HOW'S LIFE BEEN IN SWEDEN SO FAR? HAVE YOU SETTLED DOWN AND WHAT DO YOU REALLY MISS ABOUT KENYA?
SEE ALSO: Twahir Muhiddin predicts tough KPL battle
So far so good and I'm settling in quite well in Borås. I just miss having my family and friends around but that's the nature of our work, I have to manage it.
WHAT HAVE YOU BEEN UP TO SINCE YOU CAME BACK IN THE COUNTRY FOR HOLIDAY?
SEE ALSO: Olunga's hat trick sets Twitter ablaze
I've been doing a lot of CSR activities as I try to support and encourage upcoming players.
TELL US ABOUT YOUR FOOTBALL JOURNEY AND WHO INSPIRED YOU TO THE GAME.
Hahaha!!! My football journey has been and is still an interesting one and I'm happy with the progress I'm making. I developed an interest in the game at a very young age. Though nobody made me choose the game, football runs through our family from grandfather (Joseph Ouma) to dad (Hillary Peter Ouma).
NOBODY HAD GIVEN YOU A CHANCE GOING TO AFRICA CUP OF NATIONS (AFCON), BUT YOU WENT ON TO LEAVE A MARK IN EGYPT. HOW DID YOU FEEL ON MAKING THE CUT AND THE ENTIRE EXPERIENCE?
It was just a pleasure to make it to the training camp in France leave alone making the cut. It was an exciting moment and a dream come true for me to finally grace the big stage after being part of the team since my debut against Sudan in 2016. Remember, all along I wasn't playing but learning from teammates. So, playing at Afcon was a bit crazy but a huge leap for me in my career.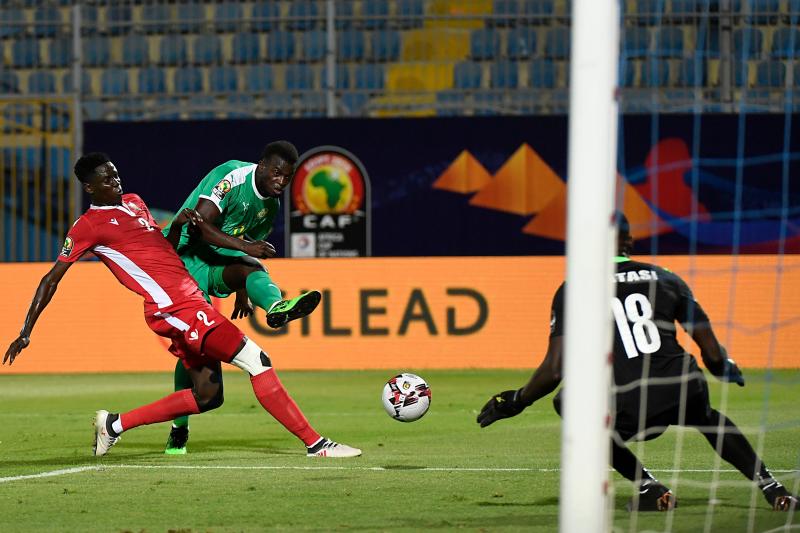 WHAT'S BEEN YOUR BEST AND WORST MOMENTS IN YOUR FOOTBALL CAREER SO FAR?
Mmmmh!!! Though making it to Afcon was a great moment, my best moment is yet to come. I've had some setbacks but I can't single out one because all of them have made me become who I'm today.
DO YOU THINK HARAMBEE STARS HAVE WHAT IT TAKES TO DEFEND THEIR CECAFA SENIOR CHALLENGE TITLE IN UGANDA?
Definitely yes. They have too much talent in the team and as defending champions, they already have an upper hand. So, it is up to the team to exploit it.
DO YOU THINK THE RE-APPOINTMENT OF FRANCIS KIMANZI AS HARAMBEE STARS COACH HAS REJUVENATED THE TEAM?
Yes, I think so. He is capable of leading the team to greater heights.
YOU HAVE BEEN CONSIDERED AS ONE OF THE MOST PROMISING DEFENDERS IN THE COUNTRY, HOW DO YOU FEEL?
I'm flattered. But honestly speaking, it feels good to be recognised for what I do on the pitch. It makes me keep on pushing to get positive results for the team.
ARE YOU PLEASED WITH THE CURRENT SITUATION AT YOUR FORMER CLUB CHEMELIL SUGAR?
Not at all. It is really devastating to see Chemelil in the current situation. Chemelil is like my home and I feel indebted to them because they gave me my first platform after high school. But I pray and hope that they will soon rise and overcome all the challenges.
WHAT'S YOUR COMPARISON BETWEEN THE KENYAN PREMIER LEAGUE AND THE FOREIGN LEAGUES YOU HAVE PLAYED IN?
KPL clubs should hire individuals who can move out and look for sponsorship instead of banking on one sponsor. The authority should also try to introduce the game to children at a tender age.
WHO IS THE DEADLIEST STRIKER YOU HAVE EVER ENCOUNTERED IN YOUR PLAYING CAREER?
Algeria's Baghdad Bounedjah. He's a beast.
WHAT'S YOUR TAKE ON YOUR FORMER KAKAMEGA HIGH SCHOOLMATE ERIC OUMA'S RECENT MOVE TO AIK?
I'm so happy and proud of him. It's not easy to make it to the top level without commitment and discipline. I can't wait to play with him on the same pitch not as teammates (school and national team) but opponent.
YOU WERE BLAMED FOR HARAMBEE STARS' GOAL AGAINST MOZAMBIQUE, WHAT HAPPENED?
Hahahaha!!! Such things happen in football. It was just unfortunate it happened to me that day.
WHAT'S THE CRAZIEST THING HAVE YOU EVER DONE ON THE PITCH?
Mmmmmh!!! Crazy thing, No!No!No!
WHAT'S YOUR FAVOURITE HOLIDAY DESTINATION?
Caribbean Islands.