Stig tops the leader board at the Classic Safari Rally showdown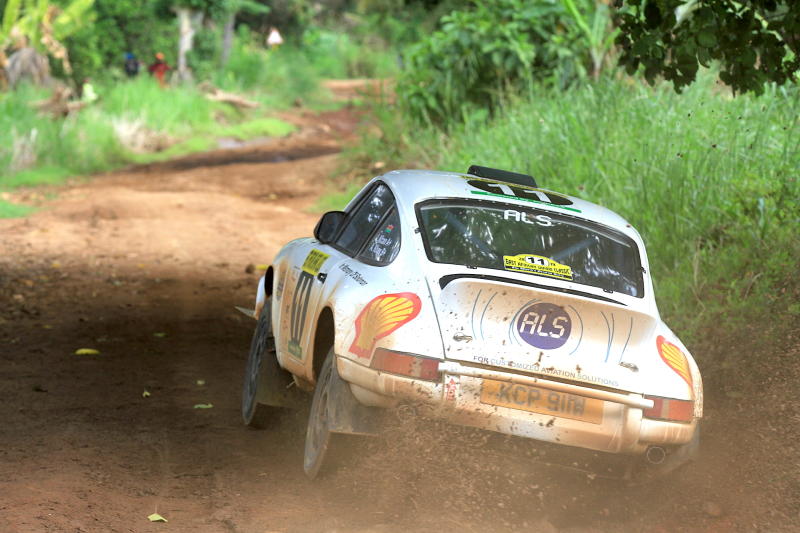 Stig Blomqvist reclaimed the top spot as the 2019 Safaricom East Africa Classic Safari Rally returned to Kenya yesterday.
As the cars arrived in Voi Wildlife Lodge for an overnight stay after a three-day rallying in Tanzania, Stig -who trailed closely at the end of stage 15 in Tanga on Tuesday - pushed the two-day leader Kris Rosenberger to the second spot.
Rosenberger time (10:21.28.2) for the second spot while Philip Kadoorie co-driven by Ryan champion in a Porsche 911 settled for third place in 10:42.17.8. Onkar Rai, navigated by Gareth Dawe, was top Kenyan in the fourth position in a time of 10:52.06
In the first stage of the day that covered 53.8km along the Magozoni-Old KOrogwe area, 2017 champion Stig claimed the stage in a time of 30.03.0. Kenya's Baldev Chager overcame meandering roads with concrete drifts to settle for the second position in a time of 30.19.7 as Wales national Osian Pryce claimed the third slot in a time of 30.28.5.
In stage two at Mkomazi area that covered 91.84km, Onkar who finished sixth in stage one overcame numerous concrete drifts to win in a time of 49.49.0 with Stig pushed to the second position after clocking 50.42.0. Briton Kadoorie was third in 51.15.2.
In the last stage of the day that saw the drivers cover 74.50km along the Kirafu- Buto area, Chager clocked 36.42.4 to win beating Kris Rosenberger in a Porsche 911 to second after timing 37.12.6. Kadoorie claimed the third slot after losing 37.35.6 as Onkar clocked 37.43.7 to emerge fourth.
The cars leave Voi Wildlife Lodge today to tackle a 40km road along Sagala-Kirumbi, which has not been used since 2011 by the rally cars. Meanwhile, Vivo Energy sponsored team's crews put in a spirited performance on the first half of the East African Safari Classic Rally which hit the road in Mombasa last Thursday. The event ends on Sunday.