Chager takes charge of Safari Classic Rally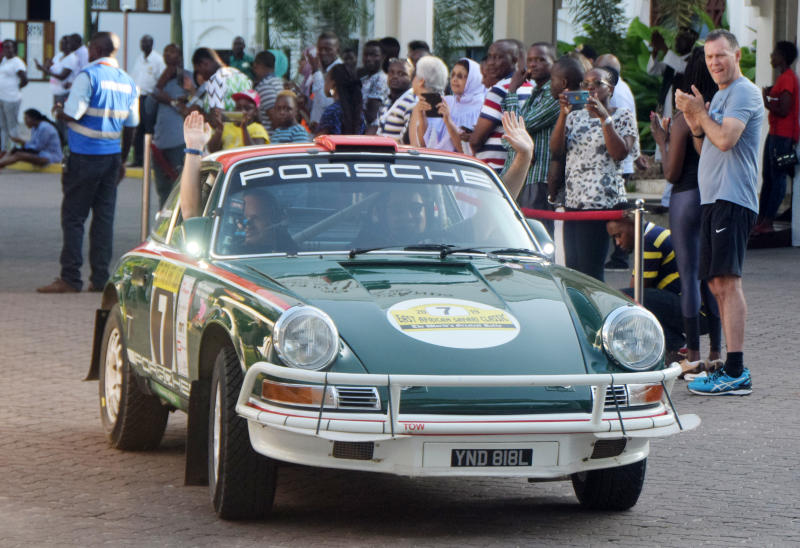 Kenya's Baldev Chager in a Porsche 911 overcame strong opposition to take the overall day one lead as the 2019 Safaricom East African Safari Classic Rally as the eighth edition went into its first overnight rest at Voi Wildlife Lodge.
The reigning 2019 ARC Safari Rally winner navigated by Ravi Soni took the lead from the start as he drove like a possessed man to open a massive 7-minute lead from Kabras Sugar Racing teammate Onkar Rai.
Chager raced ahead of the all-Swedish crew of 1983 World Rally champion Stig Blomqvist in hot pursuit and Jorge Fornander, who went to bed in third.
It is still early days as pundits would put it, but Onkar in second place will be happy as by close of the first day, 54.8 seconds separated him from experienced Blomqvist and it will be interesting to see how the race for podium positions pan out in the first half of the event which will traverse Kenya and Tanzania.
"We are so humbled and grateful to be part of this special event. We wish all the 20 participating drivers and all the organizers, a safe and exciting event. To the spectators, please come out in large numbers to experience this special rally; kindly do it in safe and designated spectator areas," Mark Senteu, Vivo Energy Marketing Manager, said.
The second day starts this morning at 7.30 am at Voi Wildlife Lodge before the cars pass through Ndi-Shelembwa and Mt Meru Hotel in Arusha, Tanzania where they will have an overnight stay.
The road between Ndi and Shelembwa is fast and narrow before it becomes twisty with numerous hairpin bends, some with blind concrete curbs and rocky in places before turning to fast blowing bends and several big brows, which keep the crew awake throughout the race before retiring in Tanga.
Meanwhile, thousands of safari rally enthusiasts lined up along Mombasa-Malindi road to have a glimpse of the vintage cars zooming off from Whitesands Beach Hotel where they were flagged off by Mombasa County Deputy Governor William Kingi.
Kenya Motor Sport Chairman Phineas Kimanthi, title sponsors Safaricom's Mpesa Marketing Manager Rachael Njoroge and Mombasa County Sports Chief Executive Officer Rajab Babu were present.
East African Safari Rally Ltd director, Raju Kishinani said the cars will for the first time since 2003 make it to Tanga, Tanzania. [Ernest Ndunda]
"After Tanga, the cars will take the longest drive back to Voi in Coast region before heading back to Mombasa to the final stage, "said Kishinani.
He said he was impressed to see newcomers giving stiff challenge to the experienced drivers. "For the past eight years since the revival of the rally in 2003, we have witnessed new champions emerge," said Kishinani.
Safaricom representative Njoroge said the firm was happy to be associated with the rally. "Sponsoring this year's rally is part of our company's responsibility to support sports in the country and we shall continue exposing talents in all sports," said Njoroge.