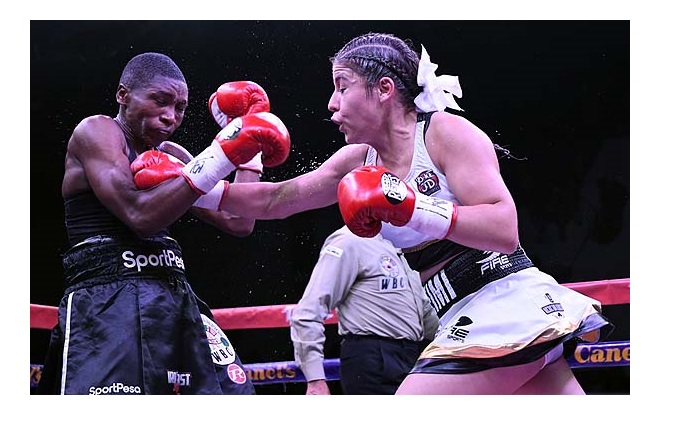 Kenyan boxer and the World Boxing Council Super Bantamweight Fatuma Zarika has lashed out to the Kenyan government for lack of support after being dethroned of her title.
SEE ALSO: Civil Society calls for EACC and DCI to probe FKF
Zarika lost via unanimous decision to Mexican super bantamweight Yamileth "Yeimi" Mercado on November 16, 2019.
Zarika, who has held the belt for 4 consecutive years, said she owes no one apology after losing to the Mexican.
SEE ALSO: Gor Mahia: How Ambrose Rachier was elected unopposed
Yamileth won with a unanimous point decision of 99-91, 98-92 and 99-91 at the Poliforo in Ciudad Cuauhtemoc, Chihuahua, Mexico.
Following her defeat, Zarika, in a video that has since gone viral on social media, lamented that she lost the match because she did not receive any assistance from the government when she clinched the WBC super-bantamweight title in Nairobi last year.
SEE ALSO: FKF elections could head back to court
However, Zarika's lamentation did not go down well with a significant section of the fanbase, with some taking to social media platforms to blast the former WBC super-bantamweight champion.
Here are some of the reactions captured by GameYetu on social media.
Ambrose Odhiambo
@Odhis_Wright
We all know Fatuma Zarika was clobbered really good here at home but the match was fixed. She's now bitter after being smashed again! Even Gor Mahia are still working really hard and getting results even after Sportpesa. Mehemehe mingi tu, Please #ZarikaVsMercado
@BrutalHonest - Not a good morning after that Zarika fight but we have our own battles to fight here in Nairobi. Before you take your hard earned money to pastors evaluate whether you are doing the right thing. We have children's home and needy families that could do with some of that cash.
S.N. Nyamao - I most sincerely feel for Zarika. A strong woman from a third world country with Zero support from the corrupt government went on to become champion. Since she became champion she has gotten negligible support. Only Sportpesa can boast to have supported her #ZarikaVsMercado
Jummah Jummah - Our leaders have failed us. While Zarika, a world champion is struggling without sponsorship. Unemployment is skyrocketing, and security a menace judging from yesterday alone; they're busy with BBI and 2022 succession talks. #NginaKenyatta #SportPesa
@Kevin Dilano -Give us break. She wanted the government to put her in payroll ama? Government can't do everything for us. It can only facilitate. The boxing association must popularize the sport to attract sponsors, sio kila kitu Government.