Amina reassures government commitment to support sports development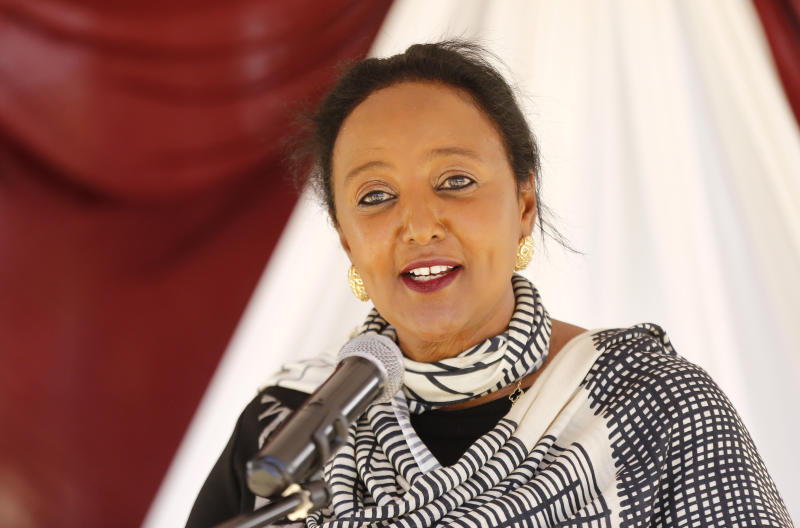 Sports Cabinet Secretary Amina Mohamed has assured that the government will support sports agencies in scouting and development of talents.
Amina said the strength and consistency in any sporting discipline lies in the identification of talent while still at a younger age and professional training and grooming as part of the preparation for the international stage.
"I would like to assure you that the president takes keen interest in sports and talent development, and as the responsible Ministry, we are focussed on creating an ideal environment that will ensure the realisation of this agenda.
"In addition to Kenya Academy of Sports (KAS) and Kenya Youth Inter County Sports Association (KYISA) I would like to appreciate the efforts made by Alive and Kicking, UNICEF and GIZ in growing talents and sports in Kenya. I assure you of my support to move this programme forward," she said.
The CS was speaking at a joint meeting between officials of the KAS, KYISA and county governments sports county executives, chief officers and director, held at Kasarani on Thursday.
The meeting adopted the KAS-KYISA partnership in talent scouting and development, approved Busia County to be the official host of this year's KYISA games.
They also agreed to the creation of regional satellite academies, and the extension of academy training clinics to 60 days - stretched through the April, August and December school holidays.
Toronto Raptors president Masai Ujiri said Kenya was endowed with vast talents which could only be rightfully identified if transparency and impartiality was upheld during the scouting process.
"Africa has the most talent in the world and it is incumbent on the responsible agencies to open their eyes and look beyond established institutions, by focusing on the grassroots – at the household level," he said.
The meeting was also attended by Sports Principal Secretary Kirimi Kaberia, Sports Kenya Director General Pius Metto and KAS CEO Doreen Odhiambo among others.