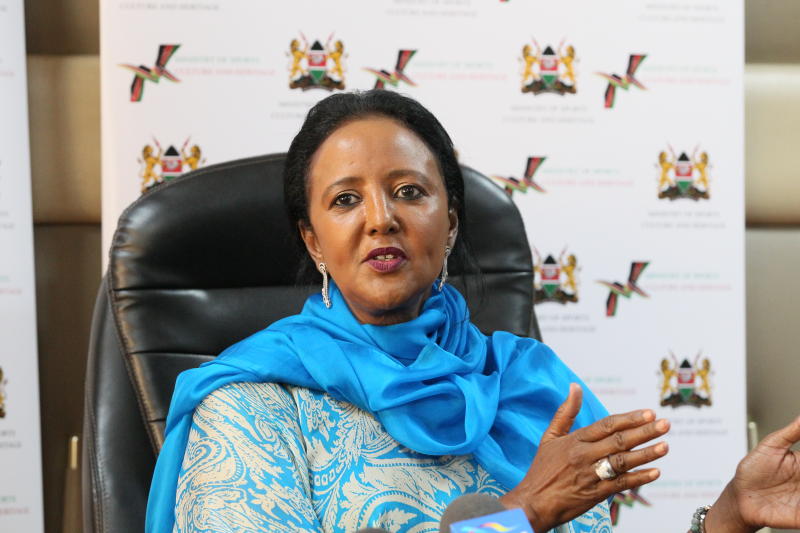 Sports Cabinet Secretary Amina Mohamed has reinstated Government's resolve to fight against doping in sports.
Amina was speaking on Tuesday during the opening of the fifth World Conference on Doping in Sports in Katowice, Poland.
SEE ALSO: Man United 1-0 Copenhagen: Red Devils book Europa League semi-final spot
She said the government aims at adopting a holistic approach in dealing with the vice by instilling legislation as the International Olympic Committee (IOC) president Thomas Bach urged governments to be more supportive in protecting athletes from doping schemes.
"The era of holding only athletes responsible for doping is drawing to an end. Trainers, managers and agents must also take their responsibilities seriously," Amina said.
SEE ALSO: Top Kenyan athletes open to help heal ailing tourism sector - Eliud Kipchoge to adopt lion
She further added: "Athletes do not live and train in isolation. They are part of the entourage and must be treated as such.
'Accomplices must also be held accountable," she added.
SEE ALSO: Best suited for the job: Juventus bet on Pirlo becoming new Zidane
According to Amina new legislation will enable the prosecution of doping accomplices in addition to the athletes.
"If passed into law, coaches, managers, sports agents and other connected persons will be barred from practising in Kenya and potentially jailed for taking part in any form of doping.
"Our view of doping as a country resonates with the position of the IOC that any successful anti-doping regime must clean up the entire sports ecosystem to guarantee fair play and clean sport."
While calling government support in fight against doping, Bach said that past experience show athletes' entourage needs to be focused on.
"Whether it was the systemic manipulation of the anti-doping system in Russia, or the investigations around "Operation Aderlass", or the most recent allegations against a coach of the former Nike Oregon Project — all these cases, as different as they are, highlight the urgent need to focus much more on the athletes' entourage," said Bach.