Zetech inks deal with KEFWA to enhance sports through education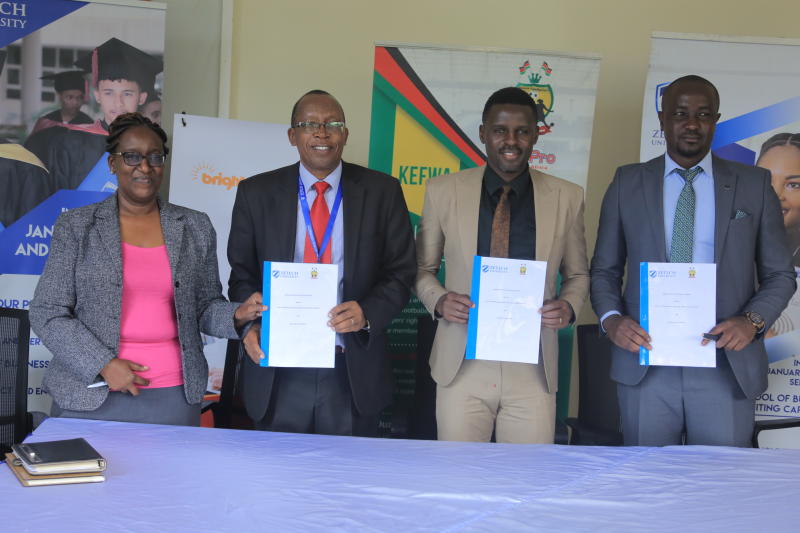 Zetech University has signed an agreement with the Kenya Footballers Welfare Association (KEFWA) and talent recruitment agency BrighterMonday to promote quality higher education in the Kenyan sports industry.
The institution signed an MOU with the firms to provide talented players with the exposure and management skills required to excel in a professional world while providing the country with a capable and skilled workforce.
In the move, BrighterMonday committed to become the main football kit sponsors of the university's men's team, the Zetech Titans, which plays in the FKF Division One league, while providing opportunities for attachment, internship and employment for the university's qualified candidates.
Affirming the firm's commitment to building young people through mentorship, employment and talent development, the firm's CEO Emmanuel Mutuma noted the role of sports in building students' soft skills, especially in the areas of leadership, teamwork and discipline.
On his part, Zetech University VC Prof Njenga Munene lauded the corporate world for collaborating with institutions of higher learning in both academic and co-curricular engagements designed to develop well rounded citizens.
"As a university, we are committed to developing well-rounded students by placing the right efforts in promoting both academics and talent growth," he said.
"We are excited to work with BrighterMonday and KEFWA at a time when our gents and ladies are excelling in different leagues across the country."
The institution will work with KEFWA to provide quality learning, evaluation and career guidance to members of the Association by providing structured learning programs.