CS Amina flags off Kenya's shooting team ahead of IDPA tourney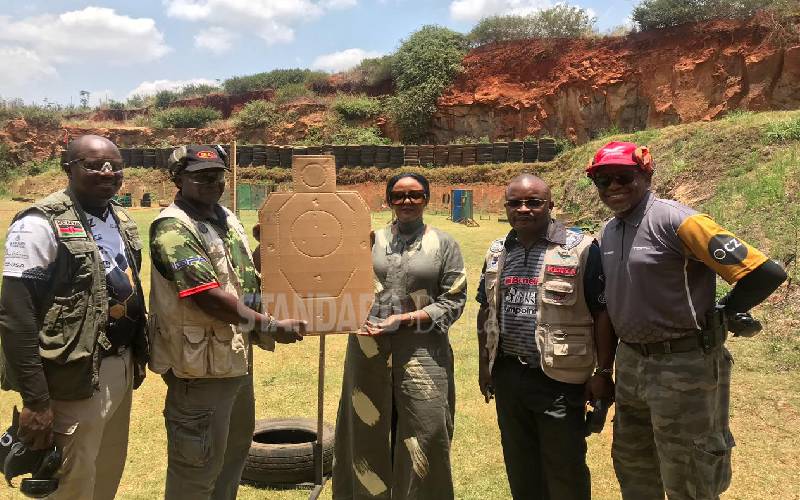 Sports Culture and Heritage Cabinet Secretary Amb. Amina Mohammed has today officially flagged off the Kenyan team that will be representing the country in the IDPA Africa championships in Cape Town - South-Africa.
The Team of approximately 20 competitors drawn from both the civilian and disciplined forces will leave for South-Africa on Wednesday 25, 2019 for the regional tournament which will take place at the False Bay Sports Shooting club.
Speaking during the ceremony, the CS said the government is fully committed to supporting all categories of sports in the country including shooting sports which has been on a steady rise in the recent past.
Kenya is one of the countries that had bided to host the IDPA Africa Championships in 2020, an opportunity which it has secured albeit with conditions.
For the the Kirigiti shooting Range to be able to host the championship, it requires a minimum of 15 shooting bays.
Currently the range houses 3 shooting bays namely 360 degree range, the Long range and the 4 container range.
Amb. Amina reiterated her support towards the expansion of the Kirigiti shooting Range to world class standards ahead of 2020 to host the IDPA Africa championships which have over time only been held in South Africa.
The National Gun Owners Association (NGAO-K) Chairman Anthony Wahome called upon the government to exempt duty on all imported ammo for the sake of shooting sports.
"We also request the government to facilitate the team that represents the country in the Africa Championships, World Championships, and the Nationals in transport, accommodation and training modules that precede the championships. This will go a long way in promoting shooting sports in the country," said Wahome.
NGAO-K Vice chairman Sammy Onyango, who spearheaded the recently constructed Bamburi Rifle Club shooting range in Mombasa from a one bay range to a record 10 bays ahead of the IDPA sanctioned match in the county, requested the government for machinery to transform the Kirigiti shooting Range into a world class range that can hold international matches.
The Sports CS who made her first ever appearance in a shooting range was given a basic course in gun safety and handling by senior Sgt Daniel Kyalo from the Kenya Prisons Training College. Like any other first timer at the range, she also took the opportunity to try her hand in shooting under the chaperonship of Sgt Kyallo.
During the ceremony, Amb Amina was conferred with honorary membership at the NGAO-K shooting range.