IDPA shooting: Expert shooter Onyango set for 2019 Northern Nationals in South Africa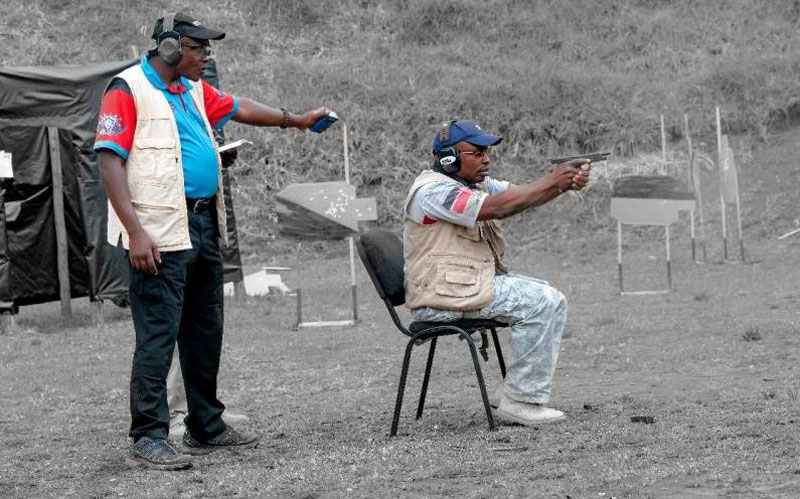 IDPA shooting Expert Sammy Onyango is set to represent Kenya in the 2019 Northern Nationals shooting tournament in South Africa.
Onyango, who won gold at the Hungarian Magtech Shooting Championships last month will be competing in the SSP division as an Expert shooter.
The Northern Nationals shooting tournament will have the highest number of Masters and Experts shooters thus emphasizing the level of stiff competition expected.
The tournament is set to take place from the 8th to the 11th of August.
Also participating in the tournament is Senior Sergeant Daniel Kyalo Mutiso of Kenya Prisons, an Expert shooter sponsored by Sea Gas Kenya Limited and Tripple Tap Range.
Speaking to Standard Sports ahead of the tournament, Expert shooter Sammy Onyango said: "I'm looking forward to the Northern Nationals tournament as I have been practising a lot, this time I'm coming back with nothing less than gold."
Africa's best shooter Ian Van der Bank who was in the country some time back to train Kenyan shooters will also be at the tournament.
Van der Bank trained Kenyan shooters in various skills like shooting on the move, drawing from concealment, target acquisition, emergency and tactical reloads, moving 45 degrees, trigger control, use of cover, transitions and mental skills.
Early this year, the Kenya shooting team put up a brave fight at the IDPA 2018 Africa Championships, eventually scooping various awards in different categories.
International Defence Pistol Association shooting training programs have been done around the country courtesy of Triple Tap Range.
The training programs are only open to licensed firearm holders.
Kenya's IDPA Shooting team is currently preparing for the World Championship in Alabama, the USA in October.
IDPA shooting which is regulated by the National Gun Owners Association is one the fastest growing sports in Kenya.