Sports face tough times over sponsorship withdrawal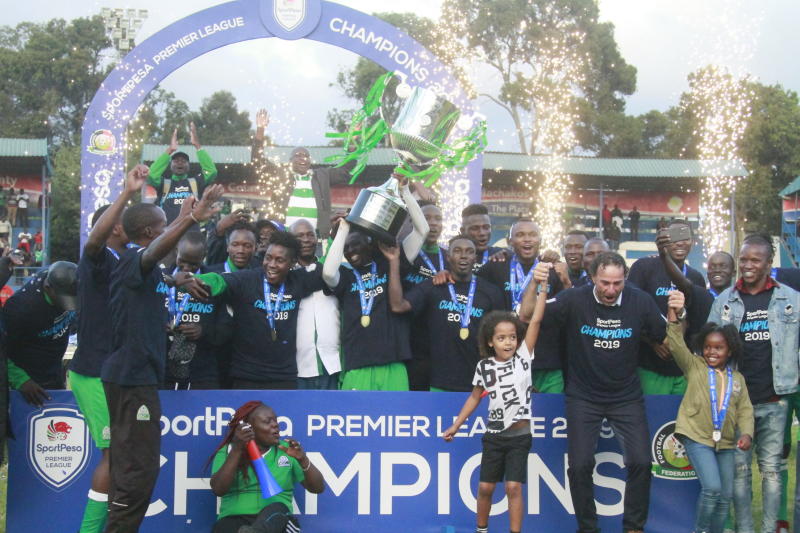 With less than a year to the 2020 Olympics in Tokyo, Japan and busy continental schedule for national football team Harambee Stars, Gor Mahia and Bandari and some sports federations are in a tricky position due to imminent withdrawal of sponsorships by betting companies.
SportPesa, Betway, Betpawa and Betin have contributed Sh5 billion in sponsorship to various sports events including football, rugby, boxing, rally and athletics in the last two years with football tipped to be the biggest casualty of the fallout between the government and the gaming industry.
Money taps to Football Kenya Federation (FKF) that supports all clubs that participate in the SportPesa Premier League and boxing legend Fatuma Zarika started drying up about three months ago when uncertainty hit the gaming industry due to a row with the Kenya Revenue Authority (KRA) over payment of taxes by some betting firms.
"We are facing tough times ahead. We have signed Memorandum of Understanding with some of our new players and paid them some of the money, hoping that things change before the start of the season. We have not paid full transfer fees and we urge well-wishers to come to our aid. We will launch a Pay Bill Number next week and we assure well-wishers that the money will be put to good use," said Dan Shikanda, a member of AFC Leopards Steering Committee.
SportPesa forked about Sh1.3 billion last year alone in sponsorships to boxing and football in the country.
Just 26 days to go before the start of the 2019-2020 Kenyan Premier League (KPL) season, Gor Mahia and AFC Leopards, two of Kenya's most successful clubs with 31 league titles between them, are in danger of failing to honour not only their local league matches but also their contractual obligations to players, some signed up from countries as far away as West Africa.
The situation is worse for Gor Mahia and Bandari scheduled to compete in continental matches in the African Champions League and Confederations Cup, respectively.
At the heart of the teams' problems is the government's decision to withdraw licences of some local betting companies among them SportPesa which sponsors Kenyan Premier League giants Gor Mahia and AFC Leopards and Betin which was one of the partners which sponsored the national football team to the 2019 African Cup of Nations.
At the moment, betting firms have committed close to Sh700 million over the next three years in sponsorships and the recent crackdown by the government on the companies is creating anxiety in sports circles.
More than 20 betting companies are yet to be licensed following a sustained crackdown on the industry by the government which has accused some of them of non-compliance and not paying taxes. Industry leaders SportPesa and Betin are among those who have been affected.
Before the recent crackdown, betting companies had been hit by a 50% tax before Parliament reduced it to current 15%. The move forced some companies to significantly reduce their sponsorships while others cut them off completely.
Kenya Rugby Union (KRU) lost a Sh600m five-year sponsorship deal from SportPesa. The company also cancelled its betting partnership deal with FKF.
The Kenyan Premier League (KPL) also had to take a big reduction of its title sponsorships after SportPesa cut it by almost half to the current Sh259 million. Betway also stopped sponsoring Mathare United who by then was enjoying a Sh30 million a year sponsorship deal before tax increment.
After losing Betway, Mathare United got another shirt sponsorship deal from another betting company Odi Bets but this also ended at the end of last season and the club is currently facing a financial crisis.
The current impasse threatens to make the situation even worse. According to FKF President Nick Mwendwa, football stands to lose more than Sh600 million and he says that will create a catastrophic crisis.
"We are looking at a huge loss translating to about Sh.600m. Without the betting firms our top clubs like Gor Mahia and AFC Leopards clubs will have no sponsors and they will struggle.
Harambee Stars will also suffer and our shield tournament will be non-existent," he pointed out.
The national team Harambee Stars was recipient of a Sh20 million support from Betin just before the recent Africa Cup of Nations finals in Egypt.
Mwendwa is worried that promotion tours like the recent one which saw English Premier League (EPL) side Everton visit Kenya and play against Kariobangi Sharks will be non-existent.
While Mwendwa said he has no problem with the government regulations but should be done in a sensitive manner considering its repercussions. "The game needs money and all over the world, 70 per cent of football sponsorships are drawn from betting companies.
"I want to ask the government to remember us as they take whatever action they are undertaking. If they leave, we are staring at a bleak future."
Gor Mahia chairman Ambrose Rachier and his AFC Leopards counterpart Dan Shikanda also expressed concerns that the crackdown will affect their clubs sponsored by SportPesa.
"We are looking doom and gloom. It is our prayer that the standoff between the government and betting firms is resolved amicably," said Rachier.
He added: "Of course, we understand the position of the government but whatever action they take they should also consider the sports industry. SportPesa and other betting companies have invested millions of shillings into sports."
His AFC Leopards counterpart Dan Shikanda, said: "Ingwe depends 100% on SportPesa funding. We simply don't know where we to go from here. We believe the government has the best interest of everyone including Leopards."
Sofapaka chairman Elly Kalekwa whose club is sponsored by betting firm Betika admitted that he was badly affected by the huge tax increase something he says forced the company to reduce its initial sponsorship from Sh.50million per year to Sh15 million.
"The reduction affected us badly as we struggled to pay our players' salaries. We are currently negotiating with our sponsors to increase their support and we hope for the best," he said.
Betika's license was renewed but it is not clear if they will increase their support given that they also have tax obligations.
Kalekwa said it will be difficult for local clubs unless the stand-off is dealt with quickly. "The situation is already bad and if our sponsors pull out then it will just get worse," he predicted.
Kalekwa, who is also the vice-chairman of the KPL marketing committee, revealed that they have a scheduled meeting with SportPesa next week to discuss the current situation. The new 2019/2020 season kicks off on August 31.
"SportPesa have not indicated that they want to pull-out but have called for a meeting with us next week to discuss the situation. We can only hope for the best," said Kalekwa.
Contributions to the Sports Fund are also to be hit badly. The Fund which draws money from tax imposed on betting firms became operational this year and its role is to help in the funding of national teams, arts and a universal health care program launched by the government.
Betting firms contributed more than Sh7 billion to the Fund every year and it remains to be seen where the government will get money for this course should the crackdown continue.
However, despite their importance, concern continues to be raised worldwide over the growth of betting companies.
Two years ago, the Football Association of England announced that it had resolved to end its relationship with betting companies following a string of high profile gambling controversies. In 2017, a poll of African millennials revealed that Kenya's youth are the biggest gamblers in Africa.