Horse racing: Muhindi continues from where he left off as he hits hat trick of victories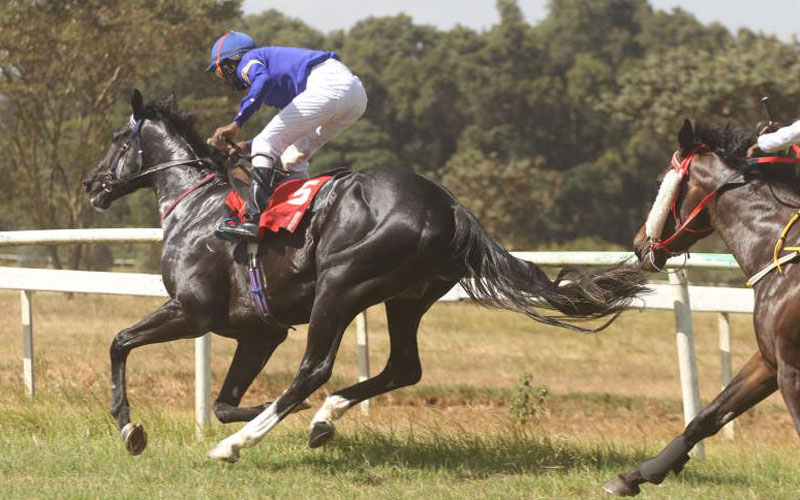 James Muhindi was the toast of the day again after he picked up from where he left off in 2018.
The evergreen Ngong based jockey won three of eight races at the Ngong Racecourse on Sunday 28th July 2019.
Muhindi guided Algy, Silverstone Air and Unforgettable to The Zarika Maiden (1,200m), The Jockey club Stakes George Drew Challenge Series (2,400m), and The Wanyama Handicap (1,800m) races respectively during this year's event.
The 1,200m Zarika Maiden was named after Kenyan female boxing Champion Fatuma Zarika and included two-year-old horses while The Wanyama Handicap included horses three years or older.
The late Kenyan football legend Joe Kadenge wasn't left behind as he had a race named after him too.
"Lots of thanks to the owner and the trainer for giving me this opportunity to enjoy their horse, the race was a bit tight and fast. I had to settle behind them till the last 1,200 meters because I knew that the challenge was going to be within the last 400 meters," said Muhindi after guiding defending champion Silverstone to victory in race six.
"I had to do a good timing to avoid confusion in the homestretch and it all worked so well."
When quizzed about the race, Silverstone trainer Joe Karari talked about their plans after a fine season with the horse.
"It's good winning a triple crown with this horse, but winning this race means a lot to me and am so happy about it," said Karari.
"We have written to Bahrain International Racing and we are waiting for their response, hopefully, if they respond, we are ready to go to Bahrain probably November."
Other winners of the day included Habour Bay, jockeyed by J Kultiang (race two 1,800m), River Run, ridden by Patrick Mungai (race three, 1,400m), La Cha Cha, guided by Henry Muya (Race four, 1,600m), Navy seal and Lady Eccles, both captained by Lesly Sercombe in race five (1,400m) and eight (1,600m) respectively.