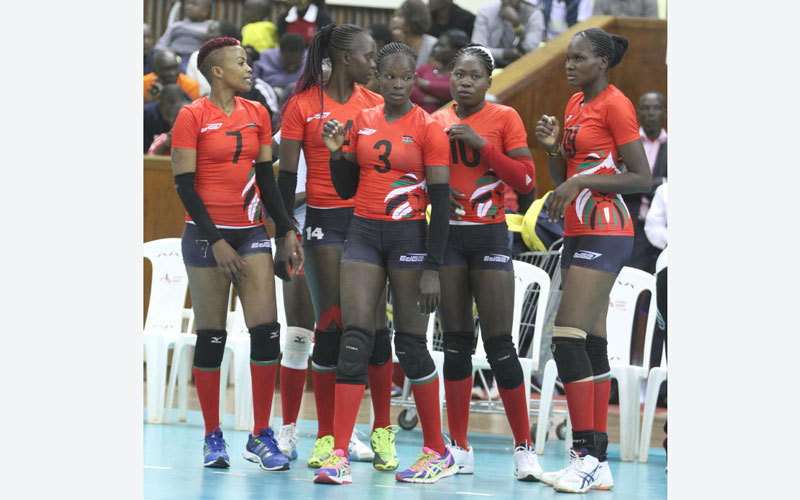 National women's volleyball team, Malkia Strikers', four-year wait to reclaim the African Nations Championship title still goes on.
The Kenyans lost 3-2 (17-25, 27-25,23-25,25-23,13-15) to defending champions Cameroon in a five-set final thriller on Sunday night at the 6th October Hall, Cairo.
SEE ALSO: OPINION: Why Nick Mwendwa is wrong on registration of County sports associations
This was the second consecutive final defeat to the top-ranked West African side after Kenya lost by straight sets (25-22, 25-19, 29-27) in an emotional 2017 final in Yaoundé, Cameroon.
Prior to dethroning Kenya in 2017, Cameroon denied them a ticket to the 2016 Rio Olympics Games in Brazil.
SEE ALSO: Tennis: Nadal to skip U.S. Open due to COVID-19 concerns, entries announced
But captain Mercy Moim and Pipeline libero Agrippina Kundu had something to smile about after they walked away with individual awards in the seven-nation tournament.
Moim was named the tournament's best server, while Kundu received the best defender's gong.
SEE ALSO: Harambee Starlets striker Katungwa off to Sweden
Despite being neglected by the government, Malkia went to Egypt brimming with confidence, gunning for a record 10th continental title barely a month after qualifying for the upcoming All African Games in Morocco.
And their hopes even skyrocketed when they rallied from two sets down to stun the well-oiled and exposed Cameroonian outfit 3-2 (18-25, 16-25, 27-25, 29-27, 15-12) in their final Group B match last Thursday.
But a fully government-funded and professionally run Cameroon, who camped in Europe for two months ahead of this tournament, had other ideas in store.
The Kenyans, who were coached by Italian Shailen Ramdoo, put on a brave fight exchanging leads with Cameroon throughout the match only for their new-found rivals to snatch the fifth set 13-15.
Kenya Volleyball Federation Technical Director David Lung'aho praised the team's performance as he challenged the government to take a leaf from their Cameroonian counterparts.
"We must understand that Cameroon have been training in Europe for two months, preparing for this tournament. Their technical bench has 10 coaches, all paid by their government. Other than that, they travelled with 100 fans. So, we should appreciate what our players did," said Lung'aho.
But for Seychelles-based stylish setter, Jane Wacu, Kenya needs to go back to the drawing board.
"Cameroon were better than us. We need to work on all our positions," said Wacu.
Cameroon and Kenya have already confirmed their qualification berth to the 2019 FIVB World Championship in Japan (September 14-29) after being ranked first and second respectively in the continent by FIVB.
Malkia, who were due to return today morning, shift their focus to next month's (August 1-4) Intercontinental Olympic Qualification Tournament in Italy.