Safari Rally: Carl 'Flash' Tundo lays down early marker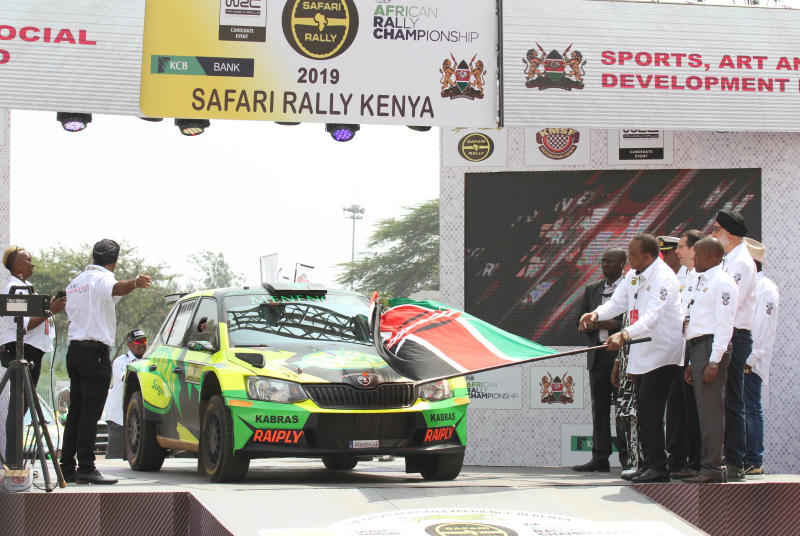 Rallying is not for the faint of heart. It is breath-taking. Adrenaline filled.
Rallying is for those 'abnormal' brothers and sisters inside flying cabins and daring enough to let go of reason all at once, turning and twisting through the bends with a sprinkle of genius just for the fun of it.
It gets more interesting if it is Safari Rally, which got underway yesterday with a Special Spectator Stage at Kasarani Stadium.
No sooner had President Uhuru flagged off the cars to a high-stakes Safari Rally WRC Candidate Event than 48 drivers in pairs got down to mind-boggling action.
Perhaps aware of the sub-plots of this year's Safari Rally, homegrown speed merchants Carl 'Flash' Tundo and Manvir Baryan - the defending African champion put up a daredevil showdown in front of the president and officials Federation International Automobile (FIA) and World Rally Championship.
Flash, as Tundo is fondly referred, topped a speed of 65.6km/h over a distance of 4.3km of twists and turns, leaving behind dust clouds and hundreds of appreciative crowds thrilled.
The Special Spectator Stage is a sort of time-trial event – where drivers compete against the clock. Zambia's Leroy Gomes co-driven by Urshlla Gomes in Ford Fiesta timed 03.59.9 for second.
Kenya's Onkar Rai co-driven by Englishman Gareth Dawe in a Skoda Fabia 03.59.7 was third while Jassy Singh navigated by Sajid Khan in Subaru Impreza clocked 04:00.1.
Top-seeded Baryan also navigated by an Englishman Sturrock had the fifth fastest time (04:00.3) as the Safari Rally headed to Naivasha for an overnight stay at Sopa Lodge before setting out at sunrise for the gruelling competition.
Kenyan crew of Jonathan Somen co-driven by Richard Hechle survived a scare after their Ford Escort MKII rolled at one of sharp bends to complete the competitive Special Spectator Stage in the slowest time 05:43.9.
The three-day competition counts towards the Africa Rally Championship, but most importantly an appraisal of how prepared Kenya is to be re-admitted to the money-spinning World Rally Championship.
Kenya has mobilised resources to ensure the championship returns to the global map and action in Naivasha today will surely reinforce Safari Rally's credentials after a near-flawless start yesterday.