From Big Foot to Smiling Shenzis, hilarious car names that lit Rhino Charge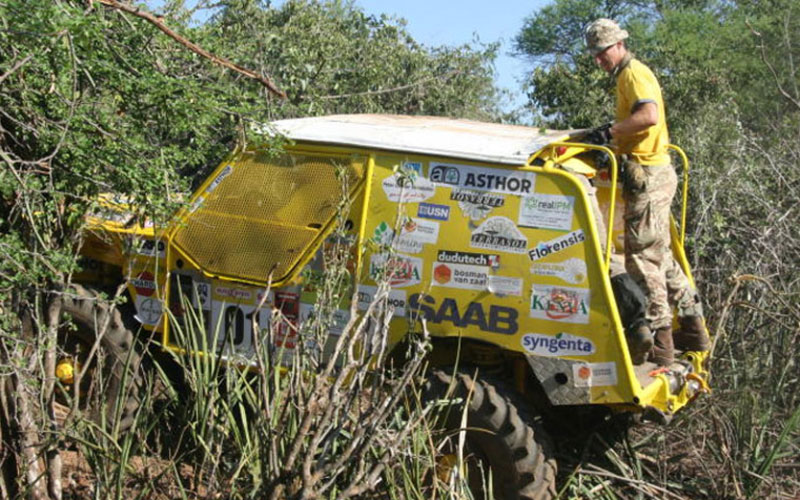 From Big Foot to Smiling Shenzis, Bush babes and Frying Squad, these hilarious yet witty names of teams in the Rhino Charge, Africa's toughest off-road motorsport kept spectators glued and cheering. Even as they rolled, sweat and cheered on their drivers through the rough, clingy terrains, as they raced to raise money for the conservation of Kenya's critical water towers, it was all exciting watching the teams compete.
Among names we sampled as weird, some funny and others sounding synonymously as the nerve cracking charge itself included;
Hatarious Chargers
This team represent Car number 3.
With their large rock-hugging orange rover, the 'hatarians' as they call themselves, are the brain-child of Mr Gurmeet Singh Mehta.
"The Hatarians remain forever unbowed, no matter the number of uphill tasks ahead, literally! A fairly new team amongst the veterans, 2019 marks our 10th anniversary and what a ride it has been!"
Smiling Shenzis, Car 22
"Like all good 4×4 enthusiasts, our team of Shenzis have a predisposition for running around the bush, breaking cars, and generally being slightly unhinged… all of which are prerequisites for a successful charge team," team Smiling Shenzis described themselves.
Fat Rhinos Car no 24
The Fat Rhinos, as they say, definitely know how to push themselves and their car at the Rhino Charge . They can push their modified Toyota Land Cruiser they fondly named "Fat Betty". Fat Betty, they say, knows how to throw her weight around in the dunes, rocks and watering holes and emerging revitalised and ready for the next challenge!
"She's here to jostle her way to the top and show that endurance, perseverance, power and determination have nothing to do with her fondly being called fat," they say.
Girls in Pearls, Car 47
Even with one of its members almost clocking 70, the Girls in Pearls still compete today, after over 20 years- weathered and perhaps wiser.
"We charge adorned in pearls (and smiles) and are one of the most instantly recognisable and loved teams on the track. As always, we enter as a ladies-only team in the unmodified vehicle category," they say.
Bush Babes, Car 19
An all-female team, the Bush Babes have been participating in the Charge for over a decade.
"It is a family affair for the Bush Babes who compete girls vs. boys against their husbands in Car 21"
Big Foot
Car number 56, an unmodified Land Rover. Team Big Foot have been part of the Charge action since 2008.
"With a true gem of a machine, painted in an eye-catching lime green and fondly nicknamed baby lime. Though she is no baby when it comes to monstrous off-road capability,"
Magnate Chargers
The magnetically charged team own Car 62. As they say, they conquer the terrain inch by inch, in a beautiful unmodified Range Rover classic.
"The Magnate Chargers have also done wonders with their fundraising! We raised a whopping 14,500,000 ksh breaking the all-time fundraising record for the Rhino Charge in 2016. Over the years they have consistently been in top 5 fundraisers," they say.
Team Good Times.
Team Good Times, Car no 8 first 'Rhino Charged' in 2016. To them, 'no terrain can be too difficult for our agile, powerful yet strong machine'
Team Chomz, Car 14
"Go hard or Go home" is the simple definition they put up as their description.
Team Bundufundi Car no 38
"No bush too thick"
Other teams with catchy names included; Frying squad, bush cats, kifaru kwanza, phoenix rising,Moto moto, Abardair devils, Roving rogues, Deranged Rover, Danish Dynamite, Rhin 'O'Serious, Lordship Africa among others