Basketball: Novices ANU stun former champs USIU-A Flames as Strathmore Swords leave KU Oryx hurting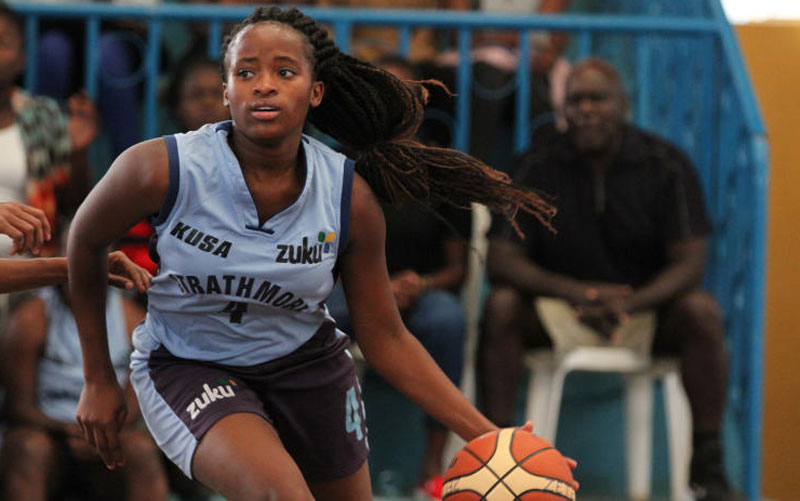 African Nazarene University (ANU) upset former Kenya Basketball Federation women's Premier League champions United States International University of Africa (USIU-A) Flames to bag their second win.
Meanwhile, Strathmore University Swords beat Kenyatta University (KU) Oryx 51-24.
Stephany Tongoi and Edna Kola scored 13 and 10 points for Strathmore while Teresa Ekive top-scored for Oryx with six.
Yesterday, rookies ANU had no regards for 2015 winners subjecting them to a 51-36 beating at Nyayo Gymnasium.
Caroline Njeri starred with 16 points while Lynn Saliamo scored 14 for ANU. Fridah Yagomba sunk a match-high of 19 but was forced to watch helplessly as her effort went to waste.
Njeri, a former Tigoi Girls guard, said they were looking forward to better performances.
"We are all new at this level of competition and it has taken us four losses to finally get it right. Our main objective is to qualify for the playoffs and we are all working hard to ensure we make the cut," Njeri said.
She added that having lost four matches in a row, Saturday's victory against Western Delight inspired them to excel in yesterday's clash.
"We needed to win to revive belief in ourselves. After beating them (Western Delight), we were more convinced that we can win and resolved to maintain the momentum," she said.
ANU's game-plan worked from the start as their trio of Saliamo, Mercy and Anne Akinyi called the shots.
Jemmimah Omondi and Yagomba fought to keep pace and keep their side in the game but ANU were unrelenting as they snatched the first quarter 14-10. They dominated the second, which they won for a 26-15 advantage at halftime.
Njeri and Saliamo tormented Flames in the third and fourth quarters as ANU scored 32 points against USIU-A's 21 to seal their second victory.
In another encounter, Storms stretched their lead to four points after beating Western Delight 71-40.
They top the log with 18 points, four more than defending champions Equity Bank Hawks, who were not in action this weekend.
Delight, on the other hand, left the city a sad lot after suffering double losses that consequently reduced their chances of making the last eight.
Linet Atieno was superb for Storms scoring 18 points while Deedee Were and Steffi Ngabire added 11 each. Faith Ogalo, Martina Burume and Helen Sinoya scored eight points each for Delight.