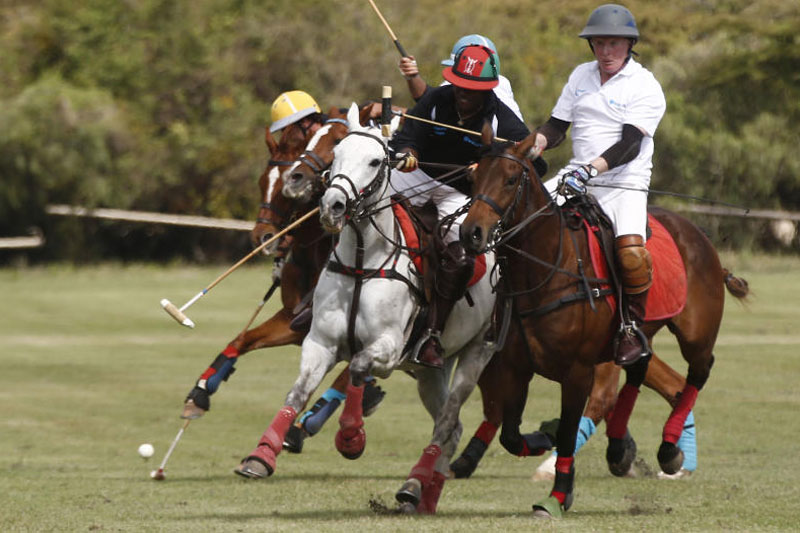 Handicap two Gordy Millar led a formidable handicap five Gold side to defeat Signature 7-3.5 as the Barclays Annesley Cup Polo Championships kicked off at Manyatta Polo Club in Gilgil yesterday.
Millar contributed four of the seven goals as Sarah Griffiths managed two and Tony Sugden one to put his side on top of the table standings with three points from one match to be on the same footing with Platinum but with a superior goal aggregate.
SEE ALSO: Jittery Juventus draw 3-3 with Sassuolo
It was a sad day for handicap 4.5 Signature team of Kimoi Moi(2.0), Joss Craig(1.5), Geoffrey Morley(1.0) and Sasha Craig(0.0) who despite having started the game with an advantage of 0.5 goal from their low handicap could not match the speed and accuracy of their opponents.
First to strike for Gold was Sarah Griffiths who scored two quick goals in the first chukka with Millar(Gordy) adding the third goal in the same chukka to take a comfortable lead.
SEE ALSO: FKF Elections: Mwachiro roots for former players in football management
In the second chukka, Millar converted three more goals as Sugden(Tony) managed one before he(Millar) wrapped it up with a fourth one in the third chukka as the fourth chukka proved elusive for them.
Signature made a comeback in the third chukka when Morley(Geoffrey) made a backhand score for their first goal with Kimoi Moi adding the second in the fourth chukka and Morley wrapped it up with a classic goal with only a few seconds to the final whistle in the seven and half minute four chukka match tournament.
SEE ALSO: Klopp: City's appeal victory not good for football
Gold tackle Platinum in their second match this afternoon in the round robin series' tournament that is being used as a training session for the National Junior Team for the Zimbabwe International Championships set for Harare from June 9-12.
Earlier, Platinum had dismissed Classic 6-5 in an evenly contested scoring free tough encounter of the Division One Championships to tie with Gold at the top of the four-team competition with three points from a match but with an inferior goal aggregate.
To score for handicap 4.5 Platinum were International Archie Voorspuy who is in the National Junior Team and scored three goals as Head Coach Jonathan Stichbury managed one while Cheza Millar hit a double.
Izzy Parsons reduced the deficits for Classic with three goals she scored in the second chukka after a double that had earlier been scored by Nick Millar and Stutti Millar.
In her second match this afternoon, Classic square it out with Signature ahead of the final matches tomorrow.
In the Division Two Championships of the Annesley Cup, Barclays Absa team of Moses Wainaga, Amani Nzomo, Morten Jensen and Magda Jurkowiecke walloped Tack Rack 4-2.
Tack Rack team members included Cindy Voorspuy, Jadini Nzomo, Mina Stiernblad and Fred Mambo.
The two teams tackle each other again in a repeat match this afternoon before the finals tomorrow.
Today's matches
Platinum Vs Gold at 1 pm to be umpired by Raphael Nzomo and Kimoi Moi.
Classics Vs Signature at 2 pm to be umpired by Tony Sugden and Archie Voorspuy.
Barclays Absa Vs Tack Rack to be umpired by Jonathan Stichbury and Nick Millar.