Golf: Experience comes in handy for Kikuvi in Machakos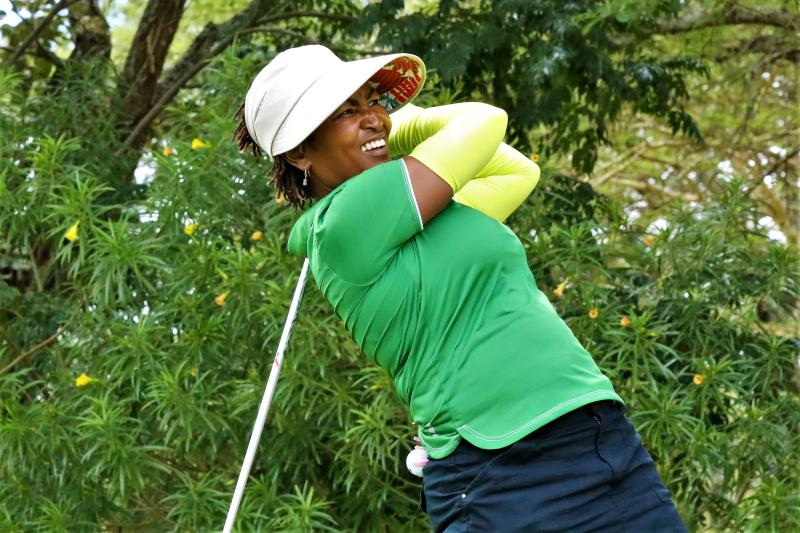 Handicap 18 Charles Kikuvi playing to his home course advantage was the overall winner during State Bank of Mauritius golf day at the par 72 Machakos Sports Club course over the weekend.
Kikuvi sank pars on the par five first, par-four fifth, par three seventh, par five 10th, par four 11th, par-four 12th, par-three 17th and the par-five 18th holes.
Bogeying the par-three second, par-four fourth, par-four sixth, par-three eighth, par four fourteenth, par-four fifteenth and sixteenth holes.
He double-bogeyed the par-five ninth but registered a single no-return on the par-four 13th hole to pick 20 stableford points from the outward nine and an additional 21 stableford points from the inward nine.
To enjoy a compact round total of 41 stableford points to prevail over a field of 84 golfers, who participated in the day-long tourney.
Kikuvi attributed his good outing on the course to the conducive weather coupled with a solid game off the deck.
"Having been off the course for a couple of months, I felt a bit rusty on the onset. And playing alongside one of the club's young golfers, Colin Nzioka, I had to bring out the best of my 28 years' experience to keep up with the pressure. I decided to keep my head down and concentrate more on my swing basics." said Kikuvi
"I was hitting the fairways like 90 percent of my round. At some point I had a few challenges with my iron-shots though my short-game made up for 40 percent of my good showing today."
In second place was Member winner Daniel Salaton playing off handicap 19, who carded 39 stableford points beating Member winner second Julius Kioko.
Kioko, playing off handicap 15 lost on countback with a similar score of 39 stableford points.
Machakos Sports Club chairman Sawarn Singh, playing off handicap 15, was Member winner fourth with 37 stableford points.
Donning the Lady's gong was handicap 17 Nancy Kariuki, who posted 38 stableford points, edging out handicap 19 Susan Ndolo who 35 stableford points.
In the Guest category, Muthaiga Golf Club's Alex Mbuthia, playing off handicap 28, carded 41 stableford points to claim the Guest winner prize.
Scratch golfer William Odera posted 33 stableford points to take Guest winner second prize. Handicap 28 Patrick Makenzi settled for Guest winner third on a similar score of 33 stableford points.
"SBM seeks to partner with county governments and Machakos County is one such area of interest to us," said SBM Bank Deputy Chief executive officer, Jotham Mutoka.
"Being a bank with excellent solutions for SME's, our golf sponsorship is an opportunity for us to meet and interact with business leaders and opinion as we seek partnerships that will help in growing up counties." he added
Machakos Governors Alfred Mutua's message was read on his behalf by the County Executive Committee member for Trade, Industry and Innovation Francis Mwaka.
"We are happy to have provide an enabling environment through favorable, sound and friendly policies for investors to enable them add value to the lives of the lives of the people of Machakos through such events."
During the event, the club's management led by chairman Sawarn Singh and Captain Musembi Katuku received a brand new Same tractor from Simba Colt Corporation worth Sh1.4 million that was purchased through contributions from the club membership to help in maintaining the fairways and irrigation.