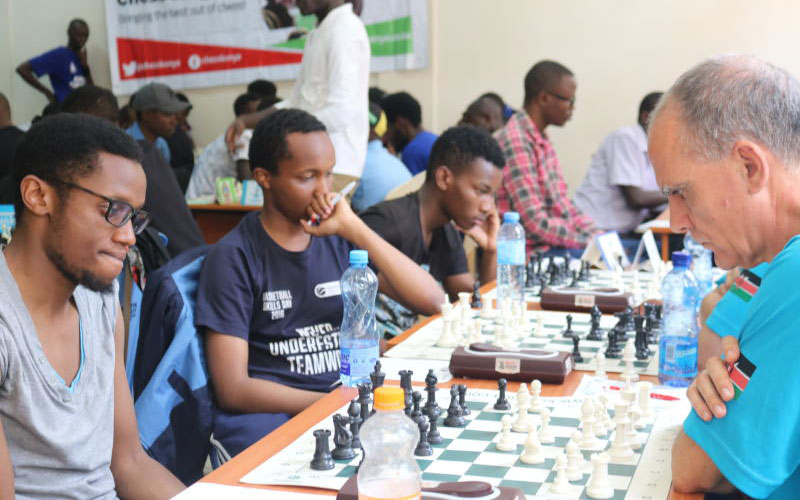 The 40th edition of the Kenya Open Chess Championship starts today at KCB Leadership Centre, Karen.
The four-day tournament is the most prestigious event in Chess Kenya's calendar of events as is attracts players from neighbouring countries such as Somalia, Uganda, Tanzania, Sudan and Rwanda.
SEE ALSO: More than 20 Covid-19 cases at two football clubs after lab error
The event is separated into three categories, Open Section which is eligible for all players, Ladies Section which is closed to ladies only and Junior Section which is closed to anyone under the age of 18 years.
The reigning Kenya Open Champion, Fide Master Harold Wanyama from Uganda, will face stiff competition from his fellow teammates Candidate Master Ben Magana and two-time Olympian Joseph Methu.
SEE ALSO: Nemanja Matic signs new Man United contract
Also in contention will be Kenya's number 1 and most highly rated player (2132), Peter Gilruth, of Nairobi Chess Club. Other contenders include Kenya's in-form player Mehul Gohil and Githinji Hinga, all of whom are among the top 10 best players in the country.
In the ladies category, the reigning champion Woman Candidate Master Joyce Nyaruai will face stiff competition from Kenya National Champion Gwen Jumba of KCB Chess Club.
SEE ALSO: Rugby Football Union plans to make 139 jobs redundant due to COVID-19
Also in contention will be Woman Fide Master Sasha Mongeli of Technical University of Kenya and Woman Candidate Master Lucy Wanjiru of Deadly Bishops.
The Open and Ladies categories will be played over seven rounds, 2 games a day with a time control of 90 minutes plus 30 seconds increment from move one.
The Junior section will be played on Saturday 20th and Sunday 21st April over six rounds, with a time control of 60 minutes per player to finish.