Taekwondo champion Dock reflects on his journey in the sport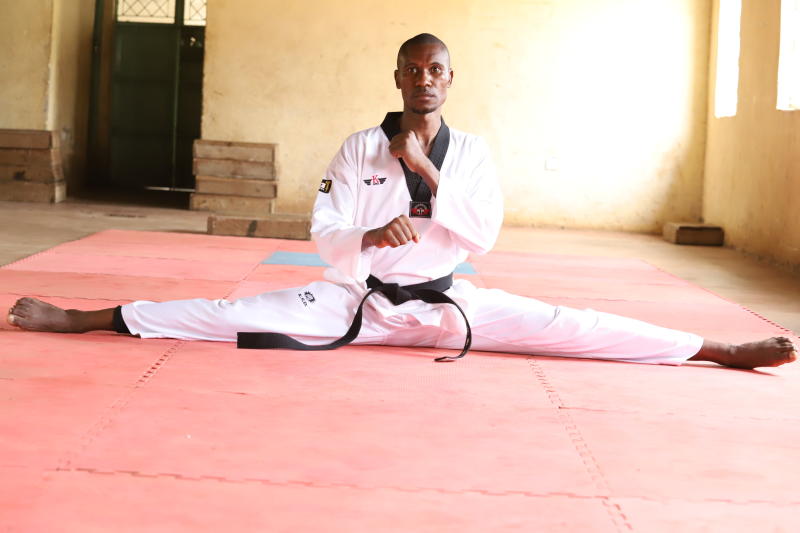 After successfully defending his Lightweight title during the Kenya Open Taekwondo Championship earlier last year, six time Kenya Open Lightweight champion Vincent Dock has set his eyes on upcoming World Championships in Manchester in February this year.
The 29-year-old spoke to Standard Sports Washington Onyango.
How did you get into Taekwondo?
I used to be bullied while in primary school so I joined a taekwondo class at Aga Khan in Kisumu so that I can have my revenge. However, my then coach Oyuko welcomed me and showed me another way of revenge.
What has been your biggest challenge?
Training without a coach for the past 10 years. It's really hard to measure my strengths. This has forced me to embrace YouTube as my coach and training partner.
What's the biggest misconception of this sport?
People view and relate this sport to rude people and gangstars. People who are aggressive, disrespectful and love only war and crime. But that is not the case, this sport can teach you discipline and respect.
How is Taekwondo beneficial to the young?
Through the experience of learning Taekwondo, children benefit greatly from the inherent traditional values of learning discipline, greater powers of concentration, respect for themselves and others, self-confidence and patience, self-discipline and self-control.
Where do you see yourself five years from now?
My target is to represent Kenya in the 2020 Tokyo Olympics with an aim of winning gold.
What else do you do?
Taekwondo is my life. It pays rent, puts food on the table and everything. I teach Taekwondo at Golden Elites Academy in Kisumu and coach some youths too.
Who is your role model?
Locally it's Master Hastings Ngala who is the former national team coach. Internationally, I admire the World Lightweight champion Aaron Cooks of Great Britain. He is just amazing.
If you are stuck in a lift, which person would you like to get stuck with?
My best friend Stephen Odhiambo a.k.a. NATO. He knows everything about me and has always been supportive during my trying times.
What is your favourite meal?
Chapo! You can guess…It's either chapati served with ndengu or 'madondo' (beans).
What one thing can't you leave the house without?
Obviously my phone!
What do you like to do on your day off? And where do you like to go?
Listening to music and going to the gym. If not doing the two, you will find me on the shores of Lake Victoria.
When was your first kiss?
Hahahaha! (laughs). It was in 2008 when I met my wife.
Who do you think is the best sportsman/ woman of all time and why do you think so?
Four-time Boston Marathon champion Catherine Ndereba. I loved her passion and determination. Her winning the 2007 World Championships in Osaka, Japan, at 35 inspired me that age doesn't matter.
If you had a choice of a country to be born in, which one will it be?
The Netherlands. Ooops! I just love and dream Amsterdam. It's a beautiful city.
Do you have any competitive desire to compete abroad?
That's a dream of each and every player in Kenya and Africa.
If not Taekwondo, which game would you have played?
Football. I used to play football before taking up Taekwondo.
Given a chance, what would you change in the local game?
I would have loved to see the Kenya Taekwondo Federation organise more international tournaments for players, and of course all the Taekwondo athletes paid and given allowances. Most of us are doing everything by ourselves and without support.
How do you want the world to remember you?
Hahahaha. I want to be remembered as a sportsman who impacted positively in other people's lives by nurturing talents and giving back to society.
What's the most embarrassing moment in your career?
Losing my first international match in Mozambique without scoring a single point.