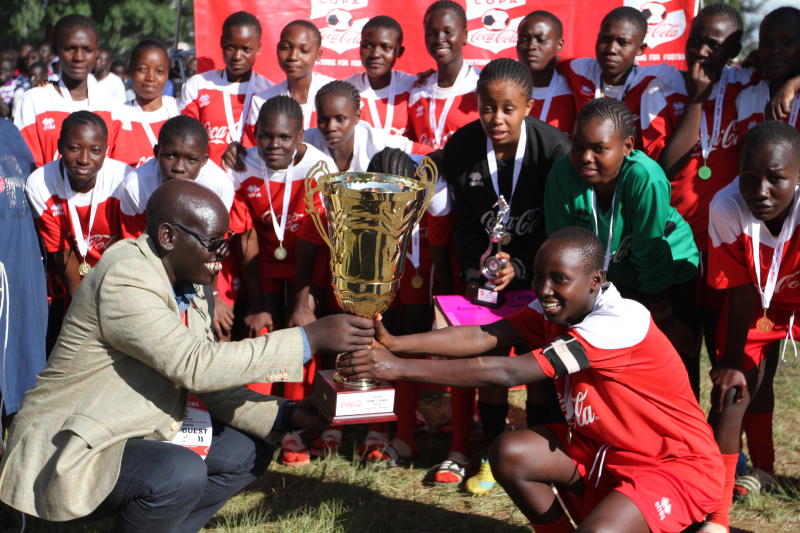 Kwale Girls High School who staged brilliant performances last year are optimistic of winning three awards at next week's Safaricom Sports Personality of the Year Awards (Soya) gala at Fort Jesus Museum in Mombasa County.
Kwale excelled at the 2018 Kenya Secondary Schools Sports Association and Federation of East Africa Secondary Schools Sports Association winning both girls football titles.
The team will battle to win in girls' school of the year, most outstanding player (Elizabeth Katungwa) and coach of the year through Mukasa Amboko.
Amboko who handled the girls' football team to win both national and East Africa regional trophies last year believes they have what it takes to win all the three titles.
For the school, Amboko said they won their first national football title in their second appearance at the top level and went on to make it a double by winning the East Africa trophy.
In the final match played in Rwanda, Kwale Girls shocked 2017 runners up, Uganda's Kawempe Muslim, 2-1 in a pulsating final to lift their maiden trophy. "In 2017 when we made our debut in Nyeri, we did not score a single goal neither did we win any match as we were ranked last.
"However, we made a turnaround and in 2018, we went ahead to win both the national and East Africa crowns, which clearly made us the team of the year," he said.
"At the national games, we were in a group of death that included former champions Archbishop Njenga and Matuu Memorial but we shocked them on our way to the final.
"In East Africa, we were also grouped in a tough pool that included Kawempe Muslims and St Noah both of Uganda, Nyange and Shemu both from Rwanda and we once again surprised them on our way to winning the title.
"We managed to defy many odds to win the two titles. As a coach, I also believe I deserved to be handed the crown for the coach of the year for my efforts of moulding a winning team within a a few months," he said.
On Katungwa, Amboko said she was the top scorer at the national games apart from being adjudged the most valuable player.
"Katungwa's stunning goal during the finals against Kawampe Muslims at the East Africa Games which enabled us win 2-1 was enough for the Soya panel to pick her," the coach said.