Amistra off to fine start in Moi Cup: Stichbury and Voorspuy stage good shows at Manyatta Polo Club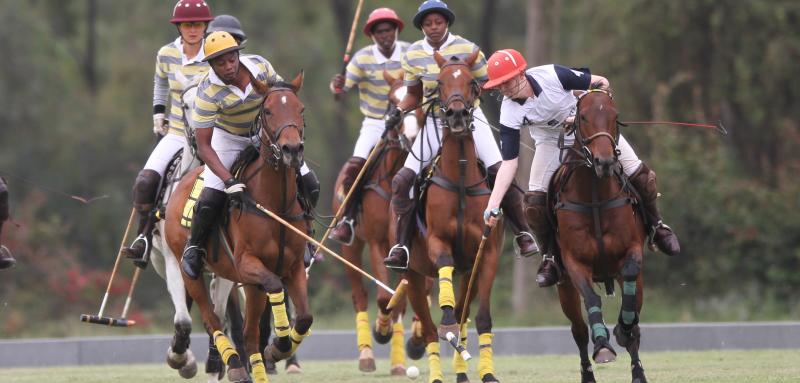 Amistra beat Absa Barclays 6-1 as the Moi Cup Polo Championships started at Manyatta Polo Club in Gilgil yesterday.
It was a sweet start for Amistra who outshone their opponents in all the four chukkas, where each chukka lasted for seven minutes with 30 seconds for both teams to take a rest and change horses.
It was Harry Stichbury who broke the camel's back with a classic goal for Amistra in the opening minutes in the first chukka and denied their opponents a comeback.
Stichbury made a perfect combination with Cindy Voorspuy, who led most of the time until they scored the second goal at the end of the first chukka.
"This was a good start for us and if we continue like this in our next two matches, I believe we can emerge victorious at the end of it. Our toughest opponents could be Cherokee," Stichbury told Standard Sports.
Stichbury advised his teammates not to rest on their laurels but to be keen on Cherokee.
Cherokee is one of the strong teams in the tournament. It is led by Raphael Nzomo, handicap 2.5, who played alongside his daughter Hiromi Nzomo, son Jadini and M. Jurkowiecke in their match against Touchdown.
Cherokee lost their opening match against Touchdown by 3.5 to 4 goals. In the second chukka, Amistra looked composed and added two goals through Mina Stiernblad and Philip Gulden as Pete Griffiths replied with a late goal for Absa Barclays.
Amistra dominated the third and fourth chukkas. It was at this point that Stiernblad added the fifth goal for the winners.
Stiernblad was on the mark again in the final chukka with a powerful strike when she eluded her markers with the sixth goal to lead table standings with three points from one match with better goals aggregate.
"It was teamwork that made us secure that huge victory with perfect positioning upfront by Stiernblad," Stichbury told Standard Sports.
Amistra takes on Touchdown in their second match this afternoon as Cherokkee meet Absa Barclays.
In the American Championships that kicks off this afternoon, ICL Chemicals will play Mambo in their first match ahead of their second match against Tack Rack team of Du Tolt, Stonewigg, Sarah Griffiths and Izzy Stichbury. Mambo will tackle Tack Rack in the final match of the day.