SJAK, StarTimes renew Sh4.5m annual deal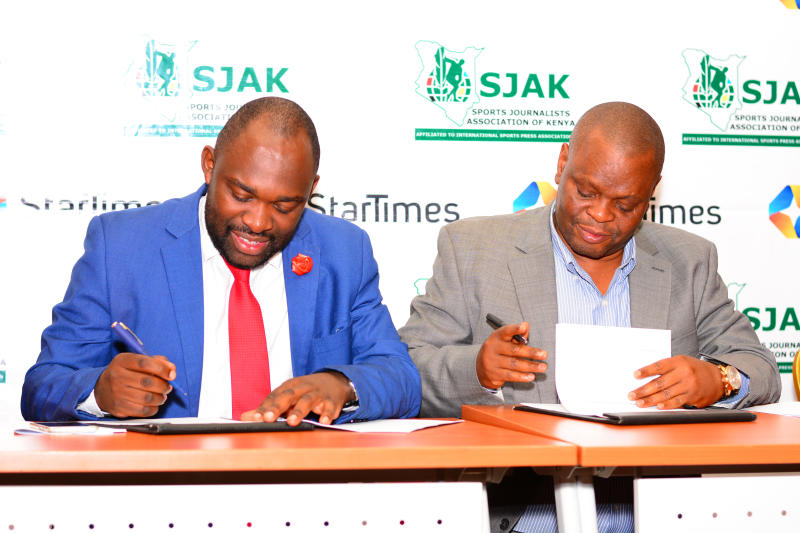 Chinese Pay television operator Star Times has renewed its partnership with Sports Journalists Association of Kenya (SJAK) for the Personality of the Month Award.
The one-year deal is worth Sh4.5 million and will see each winner pocket Sh100,000 and a 43 inch digital television set.
SJAK President Chris Mbaisi thanked StarTimes for their unswerving support to motivate athletes in various disciplines.
"The monthly award goes a long way in whipping up the enthusiasm of individuals who perform exemplary well in their respective disciplines," said Mbaisi.
"Such initiatives have motivated our sports personalities to go an extra mile in achieving higher limits."
StarTimes Brand Marketing and PR Director, Japheth Akhulia said: "In the 15 StarTimes sports personality awards that we have handed over since we established this initiative with SJAK, we have noticed renewed fervor amongst athletes in various disciplines hence the renewal of the deal," said Akhulia.
"This is testament to our diversity in appreciating our sportsmen and women as we seek to reward excellence across the diverse sports disciplines".
Since its inception, the award has rewarded efforts of deserving sports personalities including the world beaters such as 800m Commonwealth gold medallist Wycliffe Kinyamal, world Marathon record holder Eliud Kipchoge and World Boxing Council champion Fatma Zarika.
The other beneficiary is top tennis player Ismael Changawa.