Equity, KCB battle for league honours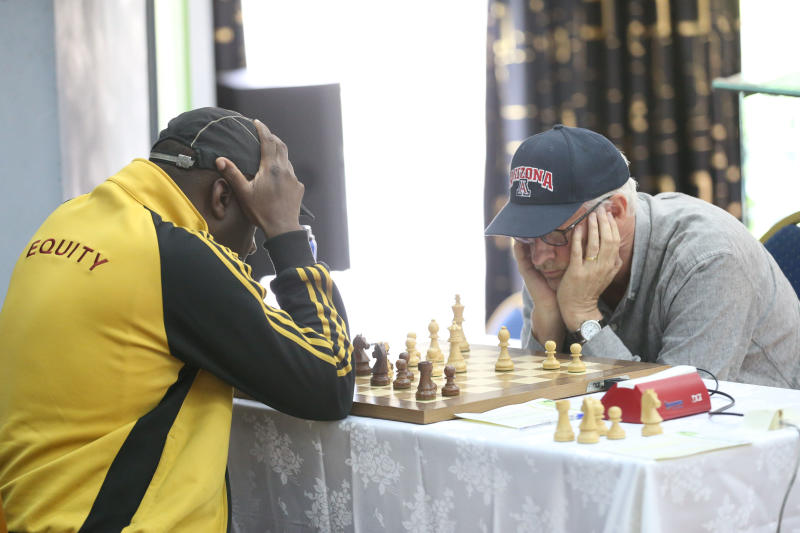 After a seven-month gruelling battle on the board, the final round of the national chess league will be played from tomorrow at Kenya Commercial Bank Sports Club in Ruaraka.
Focus will, however, be on Sunday when defending champions Equity Bank battle with KCB in a match whose result will decide the 2018 champion.
Apart from emerging the 2018 champion, the winner of this year's league will pocket Sh100,000 and an opportunity to represent the country at the 2019 Africa Club championships.
KCB are leading the pack with 54 match points and 84 game points from 19 matches.
Their nemesis Equity are breathing down their necks in second position with 50 match points and 72.5 game points, but with two matches in hand.
Deadly Bishops are third on 46 match points and 62 game points, having stayed atop of the table standings for the better part of the second leg. They are poised to clinch third position.
KCB team manager Isaac Babu was upbeat about their chances of reclaiming the title they won in 2016.
Despite requiring only a draw against Equity to do that, Babu said they are going for the maximum three points on offer.
"We have to beat Equity Bank. They have been sneaking on us and this time round there will be no escape route for them," he said.
KCB will be relying on their star-studded team that has Olympians among them Ugandan duo of FIDE Master (FM) Harold Wanyama and FM Haruna Nsubuga.
There is also the reigning national champion CM Ben Magana alongside Jackson Ndegwa, Joseph Methu, Mehul Gohil, Ben Nguku, Ricky Sang, Martin Njoroge, Ugandan Woman Female Master (WFM) Goretti Angolikin, Gloria Jumba and WFM Krishi Shah.
Equity Bank will also call on their Olympiad International Master (IM) Arthur Ssegwanyi, FM Patrick Kawuma and WFM Ivy Amoko to put their best foot forward and spur the team of Peter Gilruth, James Panchol, FM Steve Ouma, Moses Andiwoh, CM John Mukabi, Brian Adorwa, Victor Hongo, WFM Sanjana Deshpande and Olympian Daphne Mwikali to victory.
Equity Bank team manager Benard Wanjala played down the pre-match taunt from his KCB counterparts saying it is going to be a tough match, which will be quite difficult to call.
"We have an equally strong team that is ready for the match. We are well prepared and our prayer is for us to retain the title and to that end, we shall do our best," he said.
A total of 21 teams will take part in the tournament.