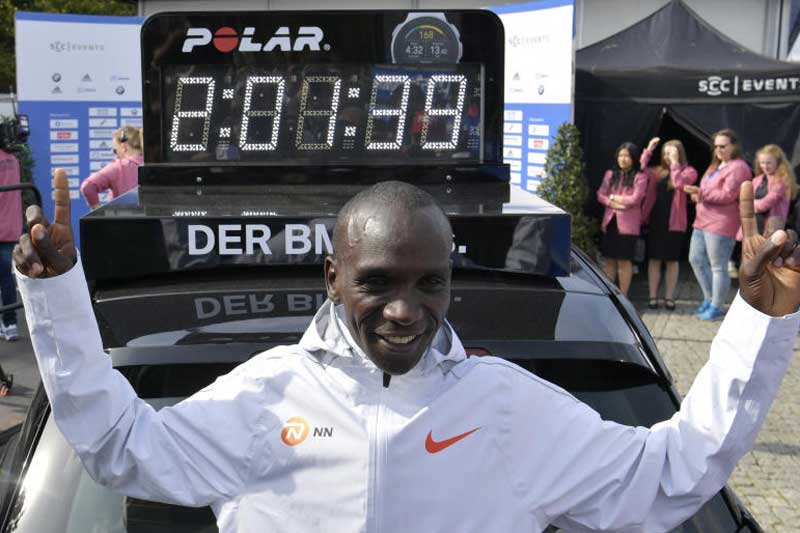 For a man who has the world at his feet, Eliud Kipchoge is not your ordinary celebrity.
At his Kapsisiywa village in Nandi County, Kipchoge loves herding cattle. He also likes joining in the banter at the shopping centre when he is not at the training camp.
He is also frequently seen in Eldoret, where he lives at the upmarket Elgon View Estate, and his humility is noticeable.
In 2016, he hired a boda boda to go for an appointment. He later boarded a matatu to the Global Sports Communication Camp in Kaptagat and paid Sh100. He said he preferred not to drive into town that day.
When he won his first $500,000 (Sh50 million), the World Marathon Majors series jackpot in 2015, Kipchoge vowed not to allow money to change his character.
He said he did not see why money should change the character of an athlete who has won Sh50 million when an uneducated farmer in Uasin Gishu can spend that amount on his 2,000-acre wheat farm "then go ahead to pray to God for rain".
"An athlete with Sh50 million in his bank account can brag, but the uneducated farmer who uses the same amount to plant wheat in one season is not even noticed as he walks in town," he said.
At the training camp in Kaptagat, Kipchoge joins fellow athletes – some of them low-profile runners – in the daily cleaning routine, including toilets.
Kipchoge has loved athletics from childhood. While a young boy, he visited his neighbour, Patrick Sang, the 1992 Olympic 3,000m steeplechase silver medallist, and asked him for a training programme.
Sang did not hesitate to offer help him and the young Kipchoge did not disappoint. He strictly followed the programme. He later requested Sang to buy him a stopwatch.
The last of four children, Kipchoge started running on the paths in his village.
"Patrick is a friend and a mentor. He changed my life," Kipchoge said in an earlier interview.
He ran casually in school and could not go beyond zonal competitions. His training and love for athletics culminated in his 2003 win in 5,000m in the World Championships in Paris. He has never looked back.
Kipchoge is fan of tennis stars Serena and Venus Williams. He is the father of Lynne Jebet and Griffin Kiprono. His wife, Grace Sugut, said Kipchoge loves ugali, traditional vegetables, and mursik.
Kipchoge still finds the Jomo Kenyatta International Airport and Eldoret International Airport welcoming parties, complete with Government and Athletics Kenya functionaries, ululating friends and relatives, upcountry buses decked with twigs and the trademark sip of mursikfor conquering heroes, quite an ordeal. He wishes everyone would just let him sneak quietly back.
In May, Kipchoge addressed a high-profile investment forum attended by Nairobi Securities Exchange stock trader Aly-Khan Satchu and spoke about his post-retirement plans.
He is an avid reader and loves quoting from John Mason, the author of The Impossible is Possible and Imitation is Limitation.
"I read at least two or three books in a month. I always buy books when I am out of the country. You can only expand your knowledge by reading," he says.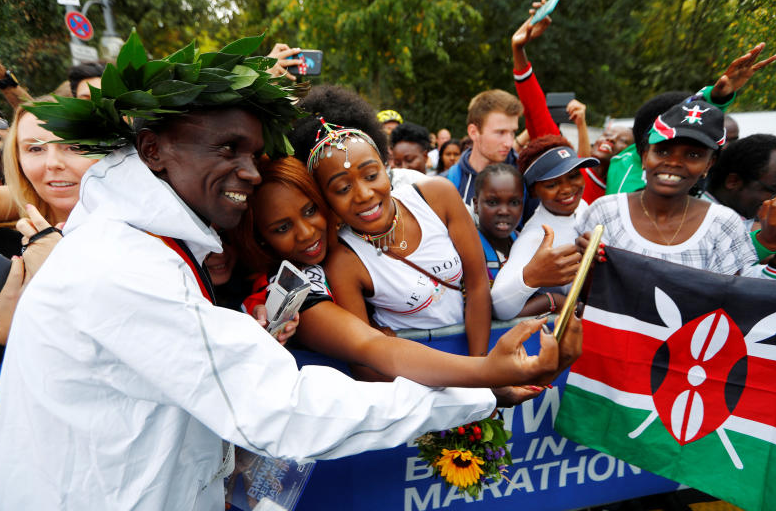 And despite having won medals in major competitions since 2001, Kipchoge had his most rousing welcome on the night of April 28, when arrived at Eldoret International Airport. "I don't like the big parties. Why should I be driven around the town after winning a race? It doesn't add up for me," he said.
Kipchoge also draws inspiration from Shoe Dog by Phil Knight, the co-founder of America's Nike, which kits him.
He holds a diploma in human resource management and plans to join university. He is a dairy and tea farmer as well as a real estate investor.